Replenishing Lip Balm with Pomegranate Oil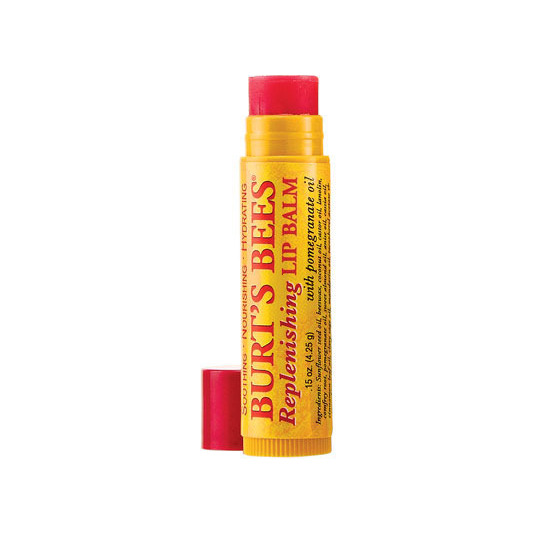 Rollover image to zoom
Reviews

Perfect Lip Balm
This lip balm will completwly revitalize your lips. It brings them back to life! I espexially love the slight berry color of this lip balm which would give me a sheer pink color on my lips. If you're going to buy any lip balm by Burts Bees it has to be this one! I always make sure I have this lip balm with me bcuz it saves my life. It moisturizes my lips even in its most dry state; I'm forever loyal to it.

LOVE IT!
The moisture stays and its pretty affordable. Best chapstick so far! Go grab it :) P.S I like that it contains natural ingredients and that it is against animal testing. Way to go.

Amazing!
I LOVE THIS LIP BALM! It makes my lips so moisturized and soft. It also gives a bit of color, which I love! All in all, I have to say, this has got to be the best lip balm I've ever tried and I would definitely recommend this to everyone!

New Lover Of Burt's Bees
I wasn't a fan of their brand until I bought this lip balm at my school bookstore. Its usually hard for me to buy lip balms because I have dry lips especially in the winter. After using the product only one time it made my lips look 100% better. I highly recommend this to anybody because it does its job as a lip balm and it smells great.

2nd Fave after peppermint beeswax balm!
After the original peppermint balm this balm is certainly a go to and my next fave. Its got more of a rosemary scent than pomegranate, but thats what makes it interesting and tasty, although it is sweet.It has a rich, berry color. I love how lush and moist the product is, giving the lips a nice sheen and pinky flush. I agree, that when you're too lazy or not in the mood for a big lip look you can just slap some of this on and its got the versatility of a lip balm and tinted balm/ lip stain/ lip butter. I love their packaging and design, how long the product lasts, yada yada. I am considering using it as a cheek tint- has anyone tried it for that? Its worth a shot, but it might be too sheer. All in all its a classic balm that everyone loves! <3
---