Radiance Body Lotion with Royal Jelly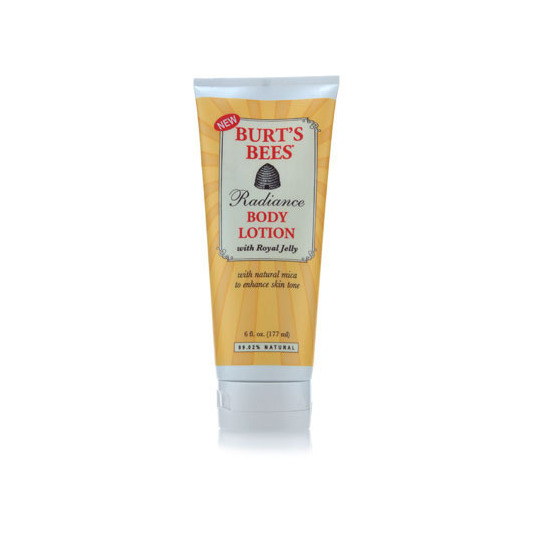 Rollover image to zoom
Reviews

shimmery and pretty
This is a *very* thin and light weight moisturizer with shimmering mica. It's perfect for summer because it isn't heavy and leaves behind a subtle shimmer that looks gorgeous in the sunlight.
+ Pretty shimmer + Notable skin improvement after continuous use + Light weight and breathable + Subtle scent that fades quickly
- Watery - Not very moisturizing

moisturizing, smells nice & leaves you naturally glittery!
i really love this lotion...it's just a little thin for my taste, i wish it was a little more solid like a cream. other than that, it's great...i like how it makes my skin feel, i think it smells nice & it also makes my skin look great with the mica shimmer...i'd definitely purchase again.

A deeply hydrating body wash that locks in moisture and leaves skin soft and glowing.
This body lotion that initially looks like your average body moisturiser, packaged in a plastic tube with a flip-top lid is by all means far from average!! Enriched with the signature sweet, fruity aroma that accompanies all of the products in the Radiance skin care range, the perfume is not as overbearing in this body lotion as it is in several of the other products in this line-up. The scent doesn't appeal to me personally, yet a certain audience could be quite attracted to it. The scent is very mild and delicate in this body lotion, and any inkling of the perfume delivered to the skin ends up fading away quickly to provide the only the goodness of the botanical/plant based ingredients minus the headache that I sometimes am left sporting when I use products that are too heavily scented.
The moisturising lotion is lightweight in texture and of a medium, fluid-like consistency, which blends evenly into my skin with ease. Like with my facial moisturisers, I find that many body moisturisers are too heavy and rich for my oily skin, whereas this formulation is ideal for the humid, tropical, FNQ climate because it absorbs well, rather than suffocating my skin and leaving me with a sweaty film on my body. I like to apply the lotion as soon as I step out of the shower while my skin is still damp, so after just a quick wipe down with a towel to remove any excess water dripping, I slather on the lotion, which leaves my skin instantly nourished and locks in moisture for lasting hydration. After it rapidly sinks into my skin, I notice immediately the texture is super soft and smooth and it imparts an all over shimmer. After my original application, I was somewhat taken aback when I discovered all of the glitter particles remaining on my hands, which is when I discovered that the mica, these light reflecting particles, were visibly prominent all through this lotion. It reminded me of one of those glitter lotions I often used as a teen, so I was not expecting to find this in a mature person's anti-ageing skin care product, lol. I personally don't mind a bit of shimmer on my body, however, as per the directions it suggests that this particular lotion may be applied to the face or the body. I honestly can't imagine why anyone would want to present themselves with their face resembling a disco ball that is covered in glitter particles, so I wouldn't even consider going there with that option, lol.
Overall, this is a fun, chic body lotion, which would be ideal for a day at the beach or even a night out dancing on the town, yet it might not be the most appropriate solution for the conservative office environment. The advantages of this moisturising lotion to the skin, definitely outweigh any negatives, with the natural, botanical infused formula packing a punch when it comes to making my skin feel so soft and nurtured, while keeping it completely moisturised for hours and hours and the imparted light reflectors ensure a lasting vibrant, illuminated all over glow.
---