Peach & Willowbark Deep Pore Scrub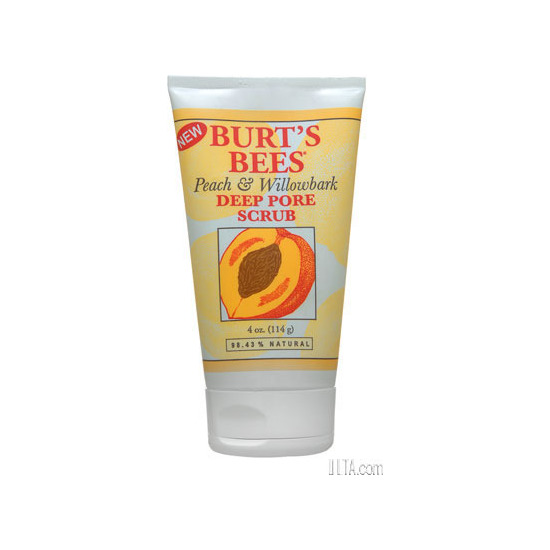 Rollover image to zoom
Reviews

love love love
for someone who has acne prone skin like i do i suggest this scrub, its so gentle and doesn't irritate but your skin feels so soft and clean after every wash. It contains salicylic acid so it prevents breakout and treats acne. I use it everyday, and it does not dry my skin. Great exfoliator for all skin types.

Gentle
This stuff prevents my face from breaking out, but doesn't over-dry my skin. The combination of salicylic acid and ground peach stone is gentle, but effective. Unlike other exfoliators, this feels mild enough to use everyday. It doesn't completely strip my skin, it just leaves it soft and moisturized. I just use a small amount and massage it over my face in small circular motions with my fingertips. I've found this removes dirt, oil, and makeup while saving my skin from too much abrasion. Highly recommended.

OBSESSION
I love this Burt's Bees Deep Pore Scrub because whenever I go to clean my face, it still feels cakey and dense, but this just cleans out everything easily! Plus it smells absolutely amazing! I've never smelt anything more delicious! The only thing is, I don't use it everyday, it doesn't seem to help my acne prone skin much, only a bit after maybe 3 washes!

WOW!
Not only does this smell amazing (nature-y) but it feels amazing! It's not too harsh, yet it gets the job done, and I feel as though it has cleared my skin of minor blemishes/blackheads, yet is not drying. After using it, it feels like there is a soothing SLIGHT oil left on the face which scared me at first, but it turned out to, overtime, make my skin eel VERY SOFT! It didnt make my somewhat oily skin feel oily, yet it's almost like it controlled it! Everytime I use it and feel the layer on my skin I always think it's going to be oily, but the next morning my skin feels terrific! Plus, it's natural :)

Fantastic Peach All Natural Exfoliator🍑
I would recommend this for anyone who wants help to softly scrub off dead skin, doesn't want to strip the face of its natural oils and isn't looking for a magical acne zapper. This is great to use whenever on normal/dry/combination skin. Buy this to treat your face to peachy perfection!

Its alright
I think I tried this because I love Burt's Bees and I wanted an exfoliator to replace my St. Ives Apricot Scrub, that I learned was terrible for your skin. The scent wasn't that appealing- it was nature-y, and its ultra hippie smell didn't really agree with me. Texture wise, this made me think of the Apricot Scrub- almost sharp particulates swirled throughout the creamy product. The "finely ground peach stone" felt even more potentially dangerous than the St. Ive's scrub, and the pieces seemed much larger. I decided not to take the chance of using yet another uber abrasive exfoliant- and decided to use this as a foot/body scrub, like I have done with my St. Ives. I have been using a Yes to Carrots exfoliator in the mean time which has served its purpose pretty well.
---