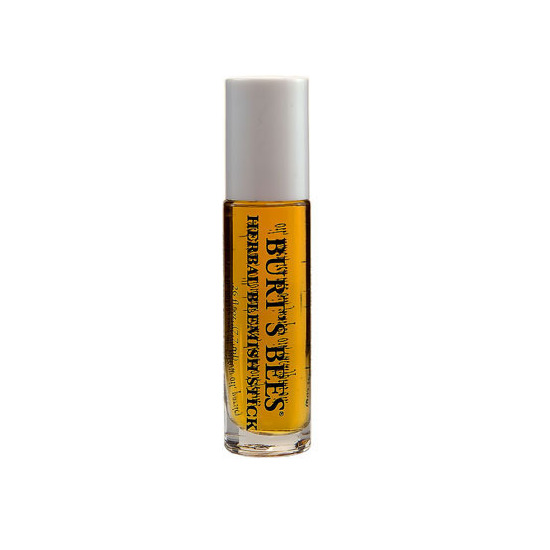 Rollover image to zoom
Reviews

The best!
This is my go to acne fighting product! I've never used anything better to spot treat my face with the occasional blemish. I feel just by using this product that it prevents future breakouts as well. I see few and few breakouts on my skin. I put this on a blemish and the very next day I notice that it's not so large and distinct. This product clears up a blemish in less time than anything else. I highly recommend this product for people who need something for spot treatments. As for really bad acne all over the face, I'm not sure how well it would work.

Charlotte H.
Oct 24, 2012
You have a blemish.. Burt bee's blemish stick can fix that!
The first thing that hits you with this products is the smell. If you are someone who does not use essential oils in your day to day routine, I can definitely see how it can be a bit overwhelming .Nevertheless this product does exactly what it promises to do. The little roller ball helps apply the oil with accuracy and allows the right amount to be applied to the blemish. Not too much, not too little. I found after a period of time it helped reduce the redness of my pimples, which is always a good thing.
I think is it reasonably priced as it is definitely a product that you don't need to use a lot of and will last you a fair amount of time.
Would purchase again. :)

Won't use anything else
This actually speeds up the healing process of my blemishes. I read such great reviews about it that I had to try it myself. That was over two years ago, and this still works for me. I love that it smells like licorice and the slight tingling it leaves on my face. I think it does a great job of killing bacteria, too. I used to use it everyday on my nose and chin, places I've had breakouts in the past, but it's too drying for preventative use (at least for me). Now I stick to using it only when a blemish pops up. This stuff really owns up to its claims!

Perfection!
I have struggled with acne and "not so great" skin for as long as I can remember. I have tried everything from over the counter to harsh prescriptions only to find out nothing worked, and most made my skin worse. Over the years my skin has naturally started to clear up but I still suffer from a weekly breakout (usually stress induced). I was afraid to go back to the standard over the counter treatments for fear of causing a larger breakout or damaging my skin. When I heard Burt's Bees made herbal skin care (aside from their lip products) I decided to give it a try. I figured something with less chemicals and more natural products might be what I needed. This blemish stick certainly came to the rescue. The rollerball allows easy application. No more sticky mess on your fingers from topical gels. Within 1 to 2 days of once a day application, my blemish cleared up. I truly wish I had found this product years ago. I would recommend this product to anyone suffering from a mild breakout who needs a quick fix. An added perk: the smell of the product. It smells fresh and earthy, not chemically.

miracle worker.
I have combination skin and an oily T zone. I don't have acne nor do I break out a lot. (So I'm not sure how it would work if you do) If I do break out it's just like one pimple max 3 times a year on my chin and upper lip. Since my skin does not act up a lot I didn't want to invest in all this fancy acne fighting crap, so I just picked up this blemish stick which cost me less than $10. I just apply it to the problem spots and they go away super-fast and I no longer look like a prepubescent teenager. It does have a strong smell but it's not that big of a deal. The only thing I don't like about the product is that it has a rollerball applicator, which I don't see how that is sanitary if you are applying that to different infected areas, but hey, I'm not an expert and this stuff works.
---