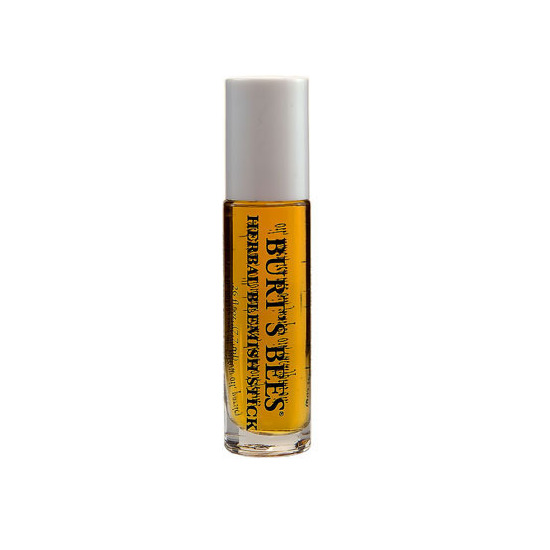 Rollover image to zoom
Reviews

It works ok but I have to be careful with my sensitive skin and redness
I have very sensitive oily/combination skin and if im not careful with this it will irritate my reddness on the apples of my cheeks but other than that it is a good product and works ok wish it would do more with the redness on the pimples but it is natural and thats what i like about it and i love that if i have a break out i can carry it with me in my purse since its so small and easy to put on.

miracle worker.
I have combination skin and an oily T zone. I don't have acne nor do I break out a lot. (So I'm not sure how it would work if you do) If I do break out it's just like one pimple max 3 times a year on my chin and upper lip. Since my skin does not act up a lot I didn't want to invest in all this fancy acne fighting crap, so I just picked up this blemish stick which cost me less than $10. I just apply it to the problem spots and they go away super-fast and I no longer look like a prepubescent teenager. It does have a strong smell but it's not that big of a deal. The only thing I don't like about the product is that it has a rollerball applicator, which I don't see how that is sanitary if you are applying that to different infected areas, but hey, I'm not an expert and this stuff works.

The best!
This is my go to acne fighting product! I've never used anything better to spot treat my face with the occasional blemish. I feel just by using this product that it prevents future breakouts as well. I see few and few breakouts on my skin. I put this on a blemish and the very next day I notice that it's not so large and distinct. This product clears up a blemish in less time than anything else. I highly recommend this product for people who need something for spot treatments. As for really bad acne all over the face, I'm not sure how well it would work.

Charlotte H.
Oct 24, 2012
You have a blemish.. Burt bee's blemish stick can fix that!
The first thing that hits you with this products is the smell. If you are someone who does not use essential oils in your day to day routine, I can definitely see how it can be a bit overwhelming .Nevertheless this product does exactly what it promises to do. The little roller ball helps apply the oil with accuracy and allows the right amount to be applied to the blemish. Not too much, not too little. I found after a period of time it helped reduce the redness of my pimples, which is always a good thing.
I think is it reasonably priced as it is definitely a product that you don't need to use a lot of and will last you a fair amount of time.
Would purchase again. :)

not for me
it does work but i noticed at the bottom of the bottle that there were some skin cells and i exfoliate everyday . didn't believe it. i think ill be looking for another tea tree product

MelissaLee V.
Dec 28, 2011
too strong
As it is for blemishes it does what it advertises in a couple days, not very sudden. I like that its small and the rollerball is pretty much for minor blemishes. It is pretty expensive in my perspective for the amount it brings but really thinking about, this should not be used daily as it can dry the skin on some types like combination or dry types. I definitely cant bear the smell because it is really overpowering. It has a lemony florida water or mothball scent to it. Its really strong enough for someone who is 2 feet away from you to smell the scent coming from your face. It is really good for blemishes on the back and i'd rather use it there than on my face.
---