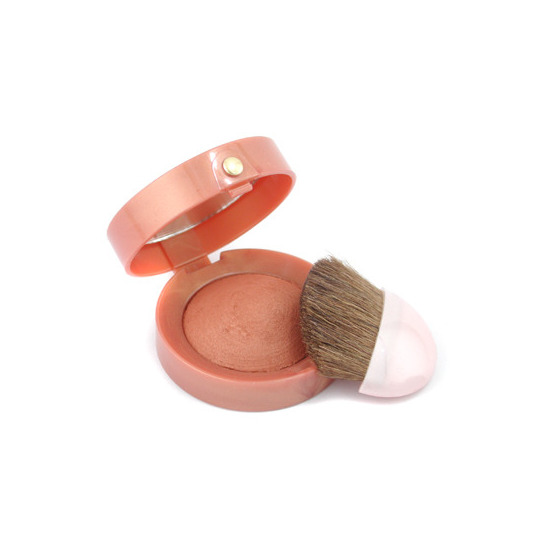 Rollover image to zoom
Reviews
Love it
It smells amazing, it looks natural on the skin, small packaging. If you like that blush look when you can tell exactly that someone's wearing a blush, these products are definitely not for you. They are so light, natural as I said. Good for beginners and to school. Can't apply too much of it.

Nice product but pretty expensive
I got this in the shade 74 Rose Ambré and I loved the color of it. It's very pigmented, gives a nice healthy look for your cheeks but the price for this little blush is just too expensive. It comes with a little brush but is very poor quality so I never use it. All in all, nice product but you can find better blushes for cheaper.

Great pigmentation - big range of colours - nice packaging
I love these blushes! I have two (rose pompon, rose d'or) and both are highly pigmented. They give a lot of colour on my cheeks. These blushes are baked and it looks gorgeous. In the small box there is also a blush brush, which can come in handy on the road. Some people find it a negative point that the boxes are small, but I find this a plus, easy to take with me in my handbag. They cost around € 10, it is not really cheap, but I do think it is a good price.

Nice Blusher that is easily finished
This packaging is similar to the eyeshadow pot. It comes with a mirror and a brush. The brush is poor quality so I would not recommend using it. The pot contain is small and it has a magnet to close the pact.
Advantages: Very pigmented blusher many different shades to choose from not glittery
Disadvantages: expensive for a small pot blush small quantity, can finish easily with regular use
A very cute packaging and the blusher comes out to be a really nice colour but it is a bit expensive for such a small pot. It doesn't make the skin look shiny which is perfect for oily skin and it gives a matte finish. This is a splurge so it is kind of a one of buy. I would buy something else.
For photos please go to: http://kreamiblush.blogspot.co.uk/2012/10/review-bourjois-little-round-pot-blush.html

So beautiful!
I love these. Every shade is gorgeous. They are baked but I don't find them any different to normal blushes in fact I probably prefer the way these look. Very buildable and blendable and gives a really nice glow that I don't usually like but these look so amazing! The only negative I would have to mention is that it is a tiny compact, so there isn't much product . Only negative. They're really affordable though so it doesn't bother me. Love!

Chanel blushes dupe!!
This blushes are amazing! I had few of them, and I have only nice words about. They are baked, so that means they are little bit different than other ones. You need brush like Mac 109, or some other dense brush to apply them, since soft brushes don't catch enough pigment. Beautiful fine shimmer u can find in some of them.

,
Hello everyone, how is your day ? actually i'm addicted to this Blush because its so Pretty and Shimmery .. and i like shimmers .. the Colors are Pretty i Like *Lilas Do'r's* its very Light Pastel Pink but it shows Perfectly on white to middle skin tone .. the Blending ability is good ! also how it looks after hours from putting it .. so its such an amazing Bluch guys .. try it out !

Like it!
I really like this blush, it is so smooth and I love this soft pastel hot pink I chose! And you need only a very tiny bit because it's pretty well pigmented! I apply it with my fingers though and then blend it, seems like brushes don't want to catch the pigments! And what a shame, the brush inside is too tiny and hard for my sensitive skin. But the product is good!

Don't use this product often but I still like it alot. At a reasonable price, I used the Bourjois blusher shade shown in the picture (coincidentally). Quite an intense colour, shows up quite well, enhances complexion well when applied along cheek bone. I used this with Benefit's Moon Beam - the combination brings a radiant glow to your face, and lasts all day.
---