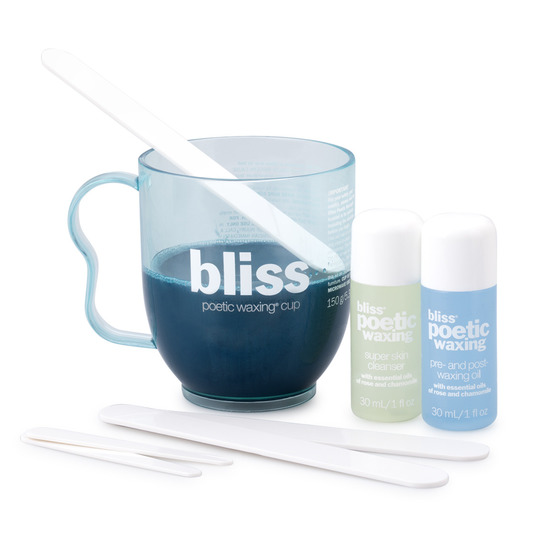 Rollover image to zoom
Reviews

My go-to at-home wax kit
I've given myself a brazilian and waxed my underarms with this kit at-home with ease. It isn't messy nor sticky. It left my skin smooth and un-irritated. There's enough in the kit to get at least 6 waxes. It's cost-effective in a sense that you don't have to spend $60+ to get a brazilian every month.
http://makeupbykim-porter.com/2011/04/review-bliss-poetic-waxing-microwaveable-waxing-kit/

It took quite a bit longer to actually heat to the right temp. To actually be able to wax my eyebrows but honestly this is a great deal! U get a lot of wax in the cup which will last u a long time and it comes with the pre/post cleaning and soothing oils, which is handy for cleaning off that nasty feeling you have after getting waxed

wow!
I just got it in the mail today, beautifully wrapped in a box personally signed (hand written) for me. Tried it out and wow! Works amazing painless (compared to professional waxes ouch!!) and I did it myself! I've only tried it on my face will give another review for body later on xoxo Aileen(:
---