Deep Cleansing Pore Strips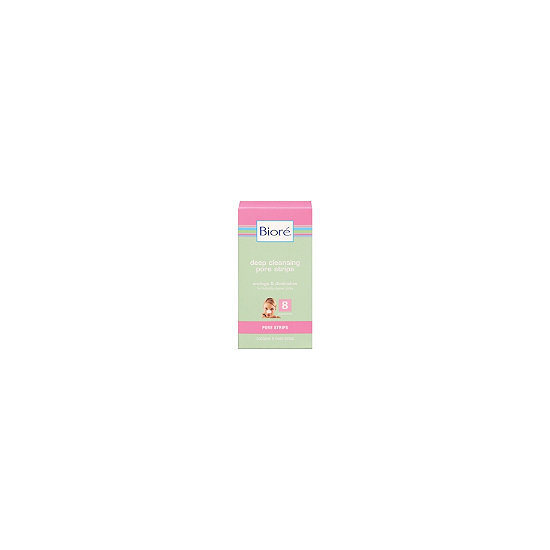 Rollover image to zoom
Reviews

awesome
you really have to wait the 15 minutes for these to work. Maybe not 15 minutes, maybe 13. But the first time I tried this product out I was weary so I only left it on for 10 minutes and some parts of the adhesive didn't dry properly, making problems worse. Not so much with my skin, but rather in terms of discomfort. I never felt pain, which is great. and I use these every four days now religiously. Makes me feel so clean and great.

YES!
I used this in combination with one of Biore's exfoliators and it got the job done. Kept my nose so smooth and got rid of *all* of the blackheads on my nose after just a few uses. To get them off easily, simply wet the strip *before* taking it off that way you don't rip your skin off lol. Verdict: get it!

Not what i expected.
ive heard great things about these, and for my blackhead filled nose i thought theyd be a godsend. but sadly i was very disappointed the few times ive purchased this product. if it gets "stuff" out its back in an hour, and i never seem to see anything on the strips after use. not as good as i hoped- no miracle product.

Not as I expected, but it does the job.
My pores on my nose needed special attention after a few breakouts, and these are awesome! Despite that there is so little and it's a bit pricey, I like that it actually took out the gunk from my pores. I got mine at Walmart at $ 6.74 for 8 strips. I have never tried actual pore strips, but after I tried Michelle Phan's knox gelatin pore strips, I broke out, and my nose got even much more oily than usual. These really hold onto your skin, and I just love the fresh like sensation when pulling it off of my nose:)

removes more peach fuzz than blackheads
I will admit that I use these to remove the dark peach fuzz that comes with being a dark skinned/pale lady on my chin and nose..hahaha. These arent strong enough to penetrate into the pores and remove my blackheads though..I will see perhaps 10 come out on a good day. I recommend steaming your face very well before using this for a better chance at catching more of these buggers, but overall this sholdnt be your go-to blackhead product..a regimen of AHA's or BHA's depending on your skin type and a good toner will make a far more dramatic and permanent difference than these flimsy strips. But I must admit that they do differ in efficiency depending on the person..I guess something to do with skin types and porousness? But I do have quite large pores and it was still average.

They do an okay job. Definitely the best pore strips I've used, but they could be better, but I have very tiny pores, and don't get very many black heads or clogged pores so that may be the reason. If you're looking for pore trips, deffinitly buy these and don't cheap out. Trust me. Huge waste of money if you go for the cheapest brand.

Lifts the dirt out of my pores!
I love these little pore strips. They are easy and ... Fun to use! This product honestly lifts the 'dirt' out of my pores! I apply the strip to my nose, where I have a few blackheads, and then after I remove the strips you can see the blackheads on the strip. I think it's a really cool product and pretty effective for a drugstore deep cleansing pore strip!
---