Deep Cleansing Pore Strips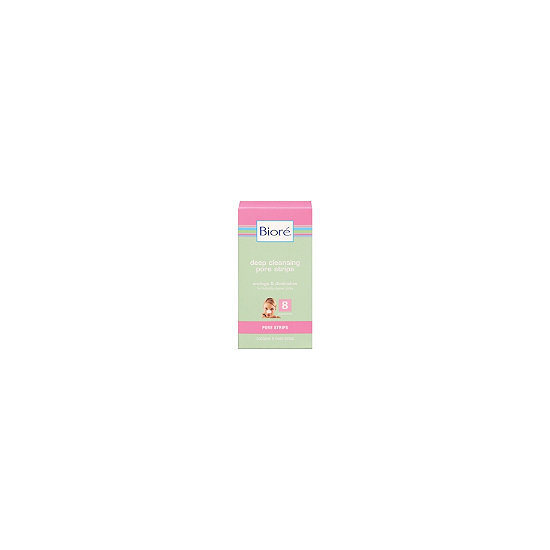 Rollover image to zoom
Reviews

Not as deeply cleansing as I had expected but they still work pretty good. I use them maybe every other week or so. I find that using an exfoliant just before and wetting with warm water helps quite a lot. I can usually leave it on for 15 minutes and have a LOT of gunk come out which is great.

Kind of, Not Really
Well I bought this product because I wanted to get rid of my black heads and it didnt work. I followed the instructions and I did everything it said, but it didnt work very well. After leaving it to dry when I took it off, some blackheads had been removed but not all. I paid over $10 for mine and I thought that it would be a good product..... But it wasnt. I'm not very happy with it

YES!
I used this in combination with one of Biore's exfoliators and it got the job done. Kept my nose so smooth and got rid of *all* of the blackheads on my nose after just a few uses. To get them off easily, simply wet the strip *before* taking it off that way you don't rip your skin off lol. Verdict: get it!

Tara Desiree G.
Sep 16, 2011
I'm not going to lie, I absolutely loved this product! It worked so great with removing all my pores. I had horrible blackheads, and they were all over my nose! One strip of this, and it got rid of them instantly! When I removed it, it didn't hurt that much, but I took my time taking it off my face.

Works like a Charm.
This is pretty much amazing! I don't have that many problems with blackheads, so I like using it on my brother who has a lot of acne scarring and blackheads on his nose. Now I use this on him once or twice a week and his face is starting to clear up. :) His nose doesn't look as disgusting and his face is getting less oily. (:

LOVE !
I used to have very noticeable black heads on my nose, but after applying this pore strip on my nose, goodbye black heads. I find it amusing looking at the pore strip after and seeing all the yucky stuff you had. Best Pore Strip EVER! My mom even uses these pore strips and loves them.

Best pore strip I have used!
I, like most people, have a few more black heads then I want and I always turn to Biore to help with this problem. I have used the new Boscia pore strips thinking because of the 'high end' brand they would be better, I was wrong! I HATED them. They pulled off the top layer of skin, not my blackheads. Needless to say I went right back to Biore. They are an amazing drugstore find.

UPDATED REVIEW
So i said below that it didn't work and that's because I used them wrong. I was told how to remove it wrong and now I know why they never worked for me. It didn't hurt that much, like just a little bit nothing too crazy, it kinda felt good taking it off. My skin got a little irritated and itchy but that's expected. It didn't remove all the blackheads but it did get a lot of them. Definitely gonna do this again in a week or two! Very excited that it actually worked.
Oh and plus they've gotten better to fit your nose since the last time I used one and that was years ago.
---