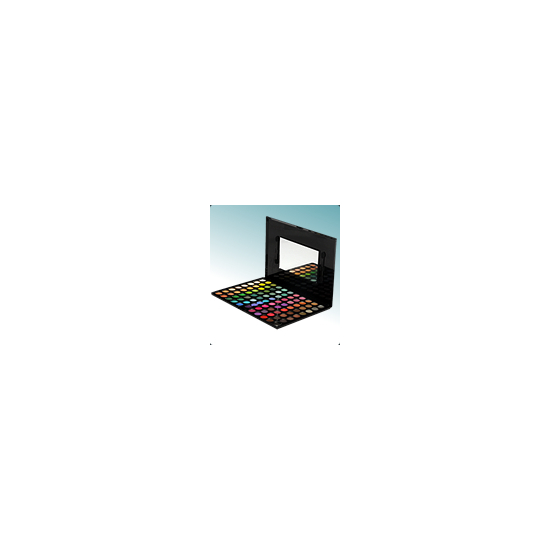 Rollover image to zoom
Reviews

ABSOLUTELY AMAZING!
This palette is SO worth the money, and it's actually pretty cheap too. All of the colours are pretty pigmented and I don't have to use a primer to see much colour. I would repurchase this. If you're looking for a really nice palette with lots of colours then I would definitely buy this palette.

This palette is good if you want a variety of different colors it delivers.But other than that I had to apply a good amount of eye shadow on my brushes just to see anything.The colors arent that pigmented even when using a primer.Its a good palette for the $20,great for people on a budget.

Super Colorful!!!
I had purchased this pallet along with my 120 4th edition one. I have nothing but good things to say about it. I love it! I think I would die without my pallet. I use it everyday and even when doing other people's make-up as well. It super colorful which is great, since I love very bright and colorful eye-shadows. The only thing that upset me which is not even a big deal is that the yellow isn't as bright but it's ok. Other than that I I love this pallet.

Ellen marley Y.
Jul 23, 2012
worth what you pay
THESE ARE NOT ALL MATTE COLORS. This is just like the coastal scents palette it has satin colors. With BH the casing is a shiny black case instead of a matte finish. The color pay off isn't great but you get what you pay for. This is great for people on a budget and beginners.

Cassandra S.
Jul 05, 2012
Personally I like it. Deffinitly worth the money.
First thing first BH Cosmetics is just amazing when it comes to their make up and deals. This pallet is great for first time make up users or people who enjoy messing around with colours. Of course there are those few colours that don't have great pay off but they are buildable. I use this pallet everyday and always come out with amazing eyes. Also for those who don't want to spend a lot on eye sets this is perfect for you. Like I said they have wonderful deals. The only down side would be the size of the colours; they are as big as a dime. But I would have to say it last forever and you really don't need that much to get what you're looking for.

Come down
Yeah so i finally come down from my shimmer/glitter high..i didn't to it cold turkey though. Thanks to this palette i am not twitching for shimmer colors. i had an epiphany and turned my life around with the matte palette. THX BH COSMETICS!!

Disappointed and some colors have a satin finish
When I saw that my package came in the mail, the first thing I said after opening my palette, I saw shimmer/satin finishes. This palette is called the 88 Color MATTE Palette. Frost/Satin finishes aren't supposed to be there. I immediately called my friend who has the palette as well and she said that her MATTE palette has the same issue. Also, compared with a lot of 88 Palette reviews and especially those of the BH Cosmetics company alone, I expected these colors to be well pigmented. I had to rub my brush into the product to get any well paid color on the brush. For the eyes, I would recommend using a base color.
But for $20, the price is good and there is 88 colors. The colors appear as if they're in a gradient, but some colors just show up awkwardly in their row and would look a lot better in another row.
Overall, if you want a variety of color in your palette plus save money, go for this palette. But you have to work with it for the desired affect.
---