120 Color Palette 1st Edition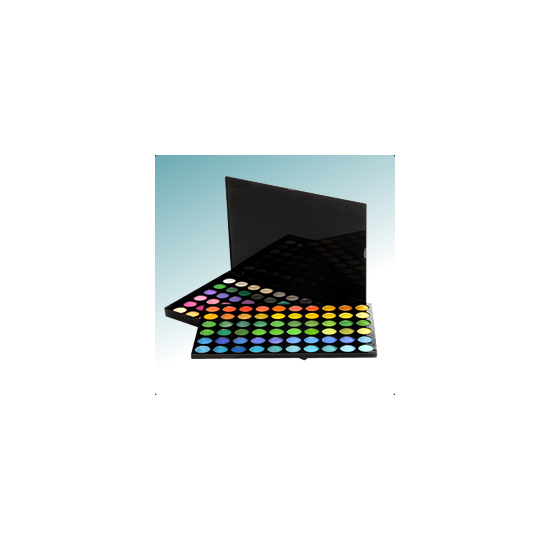 Rollover image to zoom
Reviews

The Best $16 Beauty Buy
This is the ONLY palette I'm using right now. I originally wanted to purchase a few pressed shadows from Sugarpill, but because I'd never used high pigmented colors before (and I was on a budget), I thought "easy does it" and opted for this bad boy. I was not disappointed. It has just about every shade of every color you can think of and is absolutely GORGEOUS! The colors are buildable and blend so well as opposed to other palettes I've tried in the past. I would definitely recommend the 120 1st edition to beginners as a gentle intro to color theory or those who just want all of their brights in one place.

Coastal Scents!
I JUST bought this palette from Coastal Scents on sale for about $12! This is a wonderful addition for my kit, I retired my 88 original and replaced it with this. I am soooo happy with my purchase. ordering process and shipping with Coastal Scents took 3 days! I can't wait for my next photo shoot to show this palette off!

Budget Friendly Good Colors
I bought this because I needed more Colors but was on a budget. overall I am satisfied with the palette I've been able to create awesome looks, its blend-able and great colors the only con is some colors are just a hit or miss but I for want I paid Im not disappointed. I recommend this for all Beginners that want colors to practice with without wasting your "good" products

My palette is by "FASH" but it's obviously the same exact product as this BH Cosmetics palette. A really fun palette to have, I mainly ordered it because I wanted a range of bright matte shadows. Interestingly enough, the matte brights were the nicest quality in the palette! The texture is very smooth and the color payoff is alright.The lowest quality were the shimmery neutrals, which I feel is so counter intuitive compared with every other palette I've used. Those shadows are hard and not very pigmented. There is a huge range of colors and looks to be made with this palette. I find myself using it less than expected for everyday looks, but it can't be beat for those occasions I want to be very colorful. With the right primer, the longevity of these shadows is decent, but still won't last morning until night on my slippery lids.

Inspired Artistry L.
Jan 25, 2013
GREAT FOR STARTING A KIT
If your looking to begin a kit or even just a small fun collection BH is wonderful because of all the options you have for a super reasonable price. The 120 palette was the first thing I had ever bought to start my kit, and after two years of makeup im still using it and loving it. The colors are nice and bold when packed on and wicked bright when a white base is applied. Remember to prime the lid although I have never experienced creasing from these shadows. I have also used some of the colors and blushes! :) have fun with this palette because it gives you such a wide range for some awesome play time.

Best Palette I Own!
I have quite a few BH Cosmetics products, and this is my favorite one! I find myself going to this palette more so than ones I've paid top dollar for. Not only does it have so many colors, from which you can make so many looks, the pigmentation is great! It has a good ratio of matte and shimmer colors, and though it doesn't have many neutrals, it has enough for me. Best investment from BH Cosmetics!

Amazing
I bought this palette for just €15 on ebay including p&p. i wasnt expecting great things for that price but i was so wrong! The colours in this palette are wonderful, both well pigmented and easily blendable. I would always use some form of a base with any eyeshadow so i dont know how well they perform without one. Iv used this palette on a range of looks and havent been let down. There is a good mix of matte and shimmer tones. These are an absolute steal, id recommend to anyone.
---