Rollover image to zoom
Reviews

Great product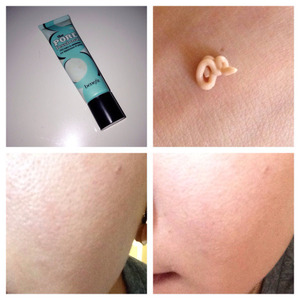 This product minimizes the appearance of pores & fine lines. I love how silky this product is. You can use this before or after applying makeup. In the photo, I used it prior to applying makeup. Apply to clean, lightly moisturized skin. Pat on problem areas & blend with fingertips. It definitely works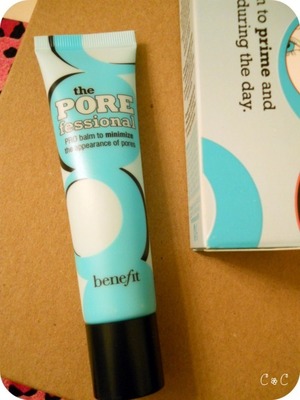 The Products: This product comes in a 0.75 oz tube container and can be purchased online or in Sephora locations for $28. The balm is meant to minimize the appearance of pores and have a silky sheer finish.
The Pros: All I can really say is WOW! Those were actually the words, or should I say word that came out of my mouth the first time I tried this product in stores. It truly is very remarkable, it does an amazing job at minimizing the pores in just one easy circular sweep. The other great thing about this product is that just a tiny bit does a big job, so if you don't misuse your product it will last you a long bit.
Also, it's perfect for priming the face. Though I apply it before foundation application I think it can very well be used after foundation application as it dries sheer.
The Cons: Well, the cost is a bit steep when you consider the size but considering it gets the job done, it is very well worth it. The other thing I dislike about the product is that the effect is not long lasting. It lasted maybe half my day, perhaps a bit more. However, I do realize that us gals with big pore problems do need to mind our face and make-up a bit more than the average gal so, all-in-all not too disappointed with my "cons" list.
Bottom Line: A worthy investment. I will continue to purchase this product.

This stuff is awesome! It does such a good job minimizing pores my only suggestions are: before you use this make sure you exfoliate/use toner/moisturize your face because it can make dry skin stand out more... On my better skin days I can get away with using this without any cover up. I love the scent but if you're sensitive to fragrance you will probably not like it. I love this product and was so impressed with it!

Use it daily!
I have pretty prominent pores on my nose, and it does what it says! I definitely notice on days when I don't use it. It feels amazing on my skin, and the tube has lasted me forever. I first got it in a Birchbox in sample size, which also lasted forever - still have it I think haha! But I loved it so much I went and grabbed the whole deal. You only need a little amount to go a long way. I wouldn't use it as a whole face primer though, probably only T zone.

Favorite. Primer. Ever.
I've tried dozens of primers, from drugstore to high end. I could never find the one for me, until my coworker recommended The Porefessional. I love the way it feels-so smooth and soft on the skin, and it definitely has an amazing effect on my foundation. As far as pores go, I know that you can't physically shrink a pore, but you can make them appear smaller, which Porefessional does well. My foundation doesn't feel like is oozing in to my pores and gunking my skin up when I wear it with this primer. I only wish it was mattifying! I also tried applying it on top of foundation, which added a bit more primer magic, but not by much.

It completely minimizes my pores.
When I first used Benefit's POREfessional I was blown away with how much it minimized my pores. I've been noticing the size of my pores on my cheeks by my nose for the past year or so (yes, it must be age unfortunately), and I had to do something about it. This product is so smooth, has a great color to even out the texture of pores showing and it doesn't feel heavy at all. I love it.

I think it really does what it says is does...however i dont feel that it lasts. It works well as a foundation primer...very smooth and light. But the appearance of your pores (I FEEL) returns after a couple of hours. Dont get me wrong thats still a little miracle but I wish it lasted longer :)
QUICK FIX
Personally I do not have many blemishes or break outs, however...when I do, I turn to this product.
The formula is very soft, light and smooth. It minimizes the appearance of the pores without having to cake on the product. The fact that this product is so light weight makes it more comfortable to apply on the skin especially a break out.
A little goes a long way (as per usual with benefit products) This product was gifted to me by my cousin and I happy that I was introduced to it !

Good for a flawless finish
There are a few pros and cons to this:
PROS: Texture is INSANELY soft. Alot goes a long way. Good for all skin types. Creates a perfect canvas for make up. CONS: Price is steep ($28 I think...) I don't really see it do much for pores...
All in all, it's a nice primer but not one that I would suggest to someone over others...
---