Fakeup Hydrating Crease-Control Concealer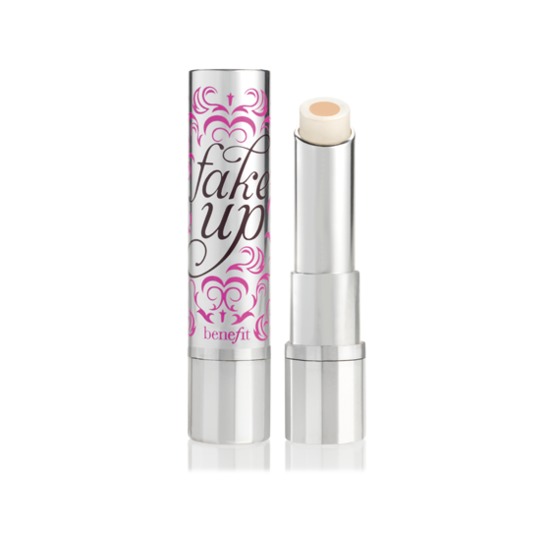 Rollover image to zoom
Reviews

Best conceealer for under the eyes!
I adore this concealer! In fact, I'm only wearing the concealer, some MUFE shadow, and NYX eyeliner in my profile photo!
I use the darkest shade of the concealer (I believe it's called deep) and it does a marvelous job of concealing my purplish under eye circles. I use my ring finger to spread and pat the concealer into place. Stays all day until I decide to wash it off at night. Suggested for all with under eye circles!

Great pre-concealer
I really have been enjoying this concealer. The Vitamin E and appleseed extract surround the perfect amount of sheer but brightening concealer. I have very dark circles so I have been using this after eye cream, before my regular concealer. I never would have thought it would make such a difference, but it helps my regular concealer to act more efficiently and has a subtle glow even through the thicker concealer.

Benefit's Fakeup Hydrating Concealer was taking the beauty industry by storm earlier this year. During a recent Benefit binge, I selected a sample of Fakeup as one of my gifts with purchase. What does Benefit say about their newest concealer? "Coverup goes incognito! This hydrating crease control concealer with Vitamin E and apple seed extract - hides dark circles and diffuses fine lines for a silky smooth, ultra natural look. Proven to keep skin hydrated for six hours." Benefit gives several facts and figures about this concealer. Here are some clinical study results: 100% said Fakeup hydrates skin 100% said Fakeup feels comfortable on skin 97% said the formula is lightweight 97% said the packaging makes it easy to use 94% said the effect is long lasting 94% said Fakeup doesn't run 91% said Fakeup concealers dark circles 91% saw a natural appearance.
That's a lot of statistics. Anyway, I received a free .06 gram sample of this concealer. The full size, which retails for $24, contains 3.5g (.12 oz). The shade selection is very limited, only three shades are offered currently. Benefit products can be bought through the brand's website, at Benefit counters and boutiques, Sephora, and Ulta. Benefit does not test on animals. This concealer is made in the USA. My sample came attached to a beige card that lists the claims of the products. An image of the full sized packaging is printed on the card, along with a full ingredient list. The product its self is pre-mixed and contained under a small tab. The full size of this concealer comes in a silver twist tube with the product name and pink detailing on the cap. The concealer is in stick form and is surrounded by a "hydrating ring". From what I hear, the texture of the stick concealer is supposed to be quite soft and easy to work with. I swatched one in an Ulta store and it seemed dry, but that's likely because it was sitting out without a cap on. I wasn't sure what to expect from Benefit's Fakeup. I've heard so many mixed reviews, and now I'm writing one. As I mentioned, my sample of Fakeup is premixed, so I can't tell you how the stick form feels. I loved the texture of Fakeup initially, it is indeed very moisturizing and super lightweight. This creamy concealer is easy to apply and blend, it pats into the skin easily. The finish is amazing, it looks just like skin. I wish I could find a foundation with this finish. For testing purposes, I applied only Fakeup on one eye, and layered it over Benefit's concealer primer, Stay Don't Stray, and powdered it with Bare Mineral's Mineral Veil on the other. Luckily, my under eye circles aren't very bad (thanks to Benefit's awesome It's Potent! eye cream), so Fakeup's light coverage is good enough. There's still a hint of darkness, but its fairly reduced. This is not a good concealer for those with strong dark circles, now will it work well on blemishes. K, are you ready for some irony? Benefit makes claims about how Fakeup won't crease, right? This is the only under eye concealer that's ever creased on me. Well, to be fair, only the eye that wasn't primed and powdered creased, but still. The eye with the extra layers held up nicely for a full eight hours, but jeez that other eye was a wreck. All the concealer was bunched up in to fine lines I didn't even know I had! It made that eye look old, or at least like I had applied Ooh la Lift to it. So this is a concealer that really needs to be set, but I guess that shouldn't be too surprising, considering it's moisture content and rich, emollient texture. The shade "Light" is ok on me, but it won't always be that way. For the first time in many years I have a hint of a tan (if you want to call it that), so this concealer won't match my normal deathly pallor. I really hate that Benefit offers only three shades, none of them covering the extreme ends of the skin tone spectrum. Luckily the light shade of Fakeup has a translucent quality to it, so it'll blend into a range of fair complexions. Like many under eye concealers, Fakeup in Light has a moderate yellow undertone to help cancel out the bluish purple hues of the under eye area. I'm equally impressed and disappointed in Benefit's Fakeup Concealer. The texture and finish of this concealer are amazing. If Benefit ever comes out with a Fakeup Foundation, I'd buy it in a heartbeat! While this product lives up to the majority of it's claims, it fails miserably at it's most important one - being crease free. If you buy Fakeup, make sure you have a good setting powder to go along with it. The coverage provided by Fakeup is fairly light; if you have bad dark circles, opt for Erase Paste to cover them or battle them with the It's Potent! eye cream. I doubt that I'd purchase a full size of Benefit's Fakeup, but I'm glad I tried the sample, it quelled my curiosity. If you have dry under eyes and mild to moderate under eye circles, try Benefit's Fakeup, it might work wonders for you; but otherwise, skip it.

I love this concealer, it's perfect for anyone who has under eye circles, and has dry skin. It goes on very smooth like a cream and it can leave a wet look if not blended well. I find applying translucent powder helps set it and it doesn't feel as heavy as many other concealers.

disappointed this time
I usually love Benefit, but when it comes to their foundations/concealers I wish they had more color options. They are very yellow-y and look TERRIBLE on my skin, which has a cool pink undertone. I got a sample of the lightest shade of this concealer and will definitely not be purchasing. For people with yellow undertones this would be fine -- I just wish they made it in cooler tones too!

I like!
I really like this concealer! I like the idea that it hydrates underneath the eye, which makes your eyes feel refresh. It also gives you the glow look. It doesn't look cakey at all and I find the coverage really good. It is easy to apply and simple to use!

Stephanie M.
Mar 17, 2013
Absolutely the worst concealer I have ever had the displeasure of using. I bought this for $24 at Sephora and returned it two days later. It leaves a "wet" look behind and looks bizarre. Offered very mediocre coverage. For $24, I couldn't justify keeping this product. Makeup is personal, to each their own, but this was not my cup of tea.

Incredible Concealer..<3
I was excited for this concealer, I was impressed with the texture and the smell. I wanted something to hiding the dark circles under my eyes but also didn't look cakey and this product had everything I want . Also, the moisturizing ring around the concealer leaves your eyes feeling fresh. It's easy to apply and has become a new staple to my cosmetic essentials.
---