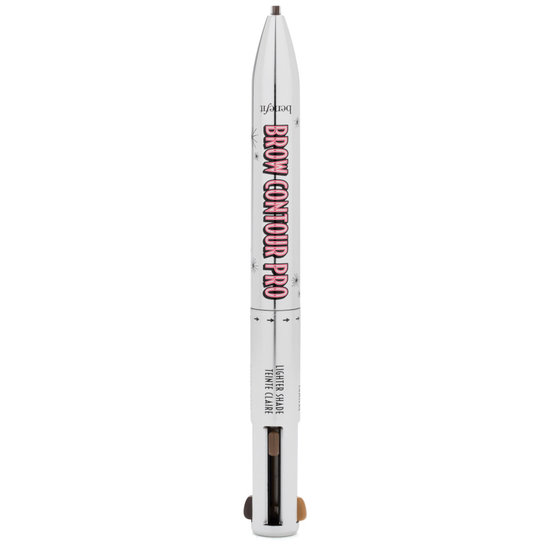 Rollover image to zoom
Reviews

The pen is easy to use, however, I find that I don't use the highlight or defining options, because I don't like the color or formula. It is too dry and pulls. The color and waxiness of the brow pencil is perfect. I find that I am using a few different products to complete the look of my brows, instead of just this one pencil.

Great Idea, But Has Flaws
I love it! It's very easy to use and if you follow the steps in the package (and also blend with a spoolie) you'll have great brows. The only thing I wish about this product is that the highlighter and definer shades could be more customizable as they were too dark for my skin tone but I know they Benefit is usually a more "natural brow" kind of brand and gals with darker skin have darker hair for the most part. People come in all different combinations and it's hard to accommodate. I still love it though and it's very innovative and a great idea.

This tool saves so much space in my makeup bag and is my go-to everyday brow product! It comes with 4 different shades: dark brown, light brown, defining shade, and illuminating shade.
I like to use the dark shade to line the bottom of my brow and fill in the tail end. Then, using the medium shade, I fill in the rest of my brows and draw hairlike strokes at the beginning of each brow. The defining shade and illuminating shades are pretty close in color and work to outline and define the brow.
I like to use my finger or tip of my Beauty Blender sponge to blend out the defining and illuminating shades. Then I brush through my brows with a spoolie or set it with a brow gel and VOILA! All finished. Quick and easy brows without using multiple tools or products.

Loving this product!
Brows are my weakness. I have very blonde eyebrows and have never really taken the time to master doing them and usually run a little powder through them and call it a day. I was excited to try this because it was so many products in one and I was hopeful about the formula. Well, the formula is great and goes on very creamy (which some people don't like, but for me it's just easier) and is easy to erase if you make a mistake. The ONE thing I wish it had was a spooley. Other than that, this is a one product miracle worker for brows!

Quick tool, not sure about the colors
So.. I liked the idea of this multi color spinning pen. It's so easy to pack one pen than a few different pencils in a make up bag, right? The problem I had with it was that the definer and highlight color didn't go with my skin tone. I'm a pale Asian. The definer and highlight was too pink and too dark for my skin tone. I had to REALLY blend with my finger tips to make them do what they are supposed to do. I couldn't see how these two color would ever work for me. That meant only half of the pen would be of any use to me. Wasn't worth the price for just two brown eyebrow shades. Too bad. I would like to pack one handy pen for my eye brows.
---