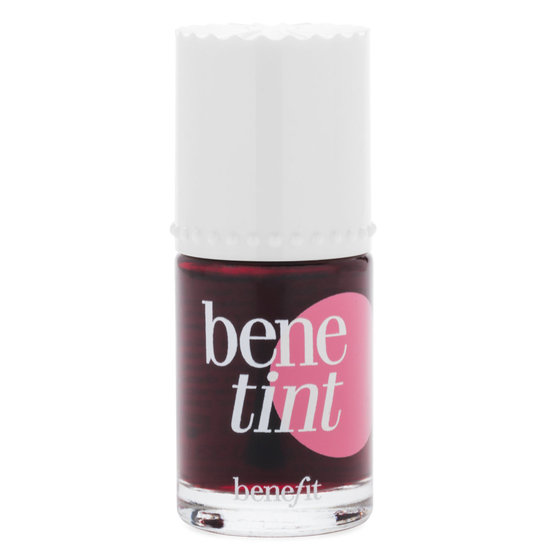 Rollover image to zoom
Reviews

It does create a subtle, pretty rosy glow on your cheeks. That being said it isn't easy to blend it stains your finger or your brush or beautyblender and it feels gross on lips. It doesn't stay on them it just dries them out. You have to blend the second you put it on your skin or it will not budge or blend out. The applicator is not great either.

Tricky to apply
I got this from a relative who had lots of makeup to giveaway, and I think I'd be mad if I had actually paid for this. Unlike the other stains in the benefit line, benetint has a very liquidy consistency. It's tricky to apply because you have to rub the product onto your face quickly. It can also be hard to balance out the amount of color on each cheek. As for the lips, I wouldn't bother. All that happens for me (and other people) is that the product gives a nice color for a few minutes before settling into the fine lines of the mouth. Maybe there's methods of application that I don't know about, but I'm 50/50 on benetint.

LOVE!
So amazing! Glides on perfectly and have great staying power! Colored Rose, it is a great summer product. As an added Bonus, it smells amazing too! Definitely recommend! It's a must have!

I've never used any other product like this. I seldom use it but when I do I always use it on my lips. It's like red water in a nail polish bottle. The very best thing about this is that after 2 coats my lips looks perfect. 3 coats and it becomes very garish and it looks even worse when you attempt to remove the excess. It's perfect for minimal days.

Rather a cheek product
It is probably one of the most famous Benefet produdtcs. I wanted to try it for ages and I finally got a chance to do it. I love the color on the lips, but I can use it only when my lips are in a really good condition as it is SO drying. The color is pretty rosy red/pink, but it doesn't stay very long.. However I really like it on my cheeks, it gives very natural blush and stays on for a long time. I got a little travel/sample size, but I think I might get a full size one.

okay
I really like this product for a low-key natural flush to my cheeks. However, on my lips, it's a different story. I do have dry lips, but when I exfoliate them, any color stays on and goes on smoothly. Benetint didn't exactly stay on except for in my lip lines and wrinkles. It's still a gorgeous color thou, but I wish it'd stay on longer on my lips than making my lines and wrinkles pop out. I'd still purchase this, so I can experiment more with my lips. Am I doing something wrong?

Love it!
I absolutely love this! Its long lasting both as a lipstain and blush. On the cheeks it gives a lovely natural dewy red color to them, which of course you can build up - you have to work quickly with it though and blend, blend, blend (!) or else it dries up looking patchy.
A lovely trick I use to have the perfect doll-like look with it is after I apply 3 lines on my cheeks of this I then also add some dots of highbeam, mix it together on a tiny area of my cheek and then blend it all outwards; gives a dewyer yet subtle look!
As a lip stain the taste is pretty bad but thats the only bad thing about it. If you dont moisturize your lips then it will be very drying and look bad obviously, so hydrate those lips and exfoliate too! I dont use it as most other people do as I just apply it on the center of my lips and blend away to have a gradient effect (perfect if you love the doll lips look or want to recreate the popular korean gradient lip trend which I always do!) and set it with a gloss to blend it even further; once on your lips this will stay on for ages! Even after I eat and drink during a meal I notice that my gloss is off and my lips feel like they have nothing on at that point, but once I look in the mirror then lipstain is actually still there, not faded at all.
---