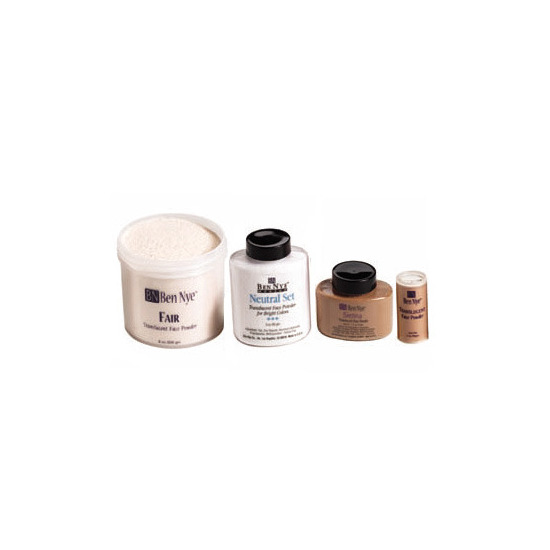 Rollover image to zoom
Reviews

Love the Coco Tan!
I bought three of these powders (NOT Banana), and was considering selling them because I wasn't fond of the packaging. They sat for a few months, and I decided to pull them out again just to be sure of how I felt about them before deciding to sell. I think I'm gonna keep them! The Coco Tan gives my skin a beautiful glow, it's a lovely finishing powder I use all over to set my makeup. It feels like silk, just so finely milled. All they need is different packaging and then they'll be perfect!

Therealcalisfynest c.
Dec 26, 2012
Love the coco tan
I have gold and orange undertones in my skin, and i love the coco tan powder, looks great with the matte foundation, cake foundation, and banana powder. Gives the ULTIMATE hollywood glow

BEST SETTING POWDER
I have tried many many powders, and this is by far one of my favorites. The banana powder works extremely well on almost every skin tone. Will not come off ashy on darker skin tones as some other powders do. The texture is very finely milled and works well if you use a big fluffy puff and rub the puff together back and forth to work the product in, then press and roll to set your foundation. Simply beautiful stuff. I own the Nars loose powder too but this is so great and at a much more affordable price.

Wonderful !!
I Love Ben Nye Neutral Set Powder and their luxury Powder in Banana BV-1. The Neutral set powder goes on sheer and does not leave that awful white cast when photos are taken. The banana powder i use to set my highlight and it gives a really nice highlight for darker complexions on lighter complexions its really good for correcting reddish foundations.The powders are really light ,silky and fluffy :). A little goes along way with this and they are very inexpensive for how great the product works. Its easily can be compared to or suggested to be more efficient then MAC , MUF HD Powder and Smashbox HD Powder in controlling oil and helping makeup last all day.

Great powders with multi-purposese
This is a great product that I use often. It is a very finely milled matte powder that can be used to set and/or correct foundation, as well as a highlighter. It comes in about 7 shades and it's very inexpensive. These can be purchased at most theatrical stage/costume shops or you can order them online.

Best kept secret?
Super quality powder, no irritation, it melts like butter on my skin.
I was surprised that it's so difficult to find reviews on this powder. It's very finely milled and absorbs oil better than any other powder I've used. I have this in about 5 different shades....it may seem like over-kill but I'll explain how I use it to correct off-color (i.e. cheap) foundations. I use the Neutral Set (Colorless Face Powder) to set all of my makeup and powders. This stuff absorbs in the skin and has no chalky residue. This powder is my go to oil blaster in the summer. I use the Banana Viasge Powder in a similiar manner as the Neutral Set, but this one gives me face a touch of warmth. The color absorbs beautifully and doesn't look 'yellow', it just soaks up the oils, sets my concealer/foundation and adds a warm glow. I love this stuff! I also have Coco-Tan, Chestnut and Sienna. These three are brown shades with different undertones. Chestnut is pretty much an exact match to my skintone. Coco-Tan has a slight orange undertone and Sienna has a more reddish undertone. Chestnut is in between.
While I can wear each of these powders over my foundations and still look great, I find that I can use them to counteract any foundations that have funky undertones when I apply them. For example, L'Oreal True Match foundations leave a weird greyish undertone on me....even when I set it with my MAC Mineralize Skinfinish or other powders. But when I set it with my Ben Nye powder in Sienna, it balances out the chalky grey tones and leaves me with a nice finish. I can't say enough about these powders. I love them. You get 1.75 oz/49 gm. for pennies compared to Smashbox or MAC products. I only paid $3.75 for the tinted powders and $4.25 for the Neutral and Banana Visage powders!!! These can be purchased at most theatrical stage shops/costume shops or you can order online. I found a fantastic website for a wonderful company in Wisconsin that carries a wide variety of Ben Nye Products.
---