Styleshots Epic Volume Shampoo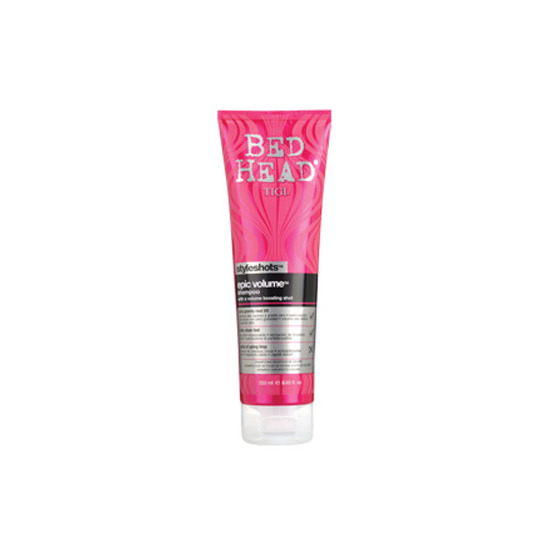 Rollover image to zoom
Reviews

Anna Marie D.
Aug 02, 2011
Epic Volume might be an overstatement, but i'm glad I own this product!
I LOVE Bedhead products and I was super pumped to find this at Ulta! In the 25.36oz bottle, this product can run about $30 for the shampoo and roughly the same for the bottle of conditioner. I guess I was meant to have this, though, because it was on sale for $9.99!
Of course, the first thing I noticed was the fragrance it gave off. The smell is GREAT. It's very sweet; a great berry scent that smells more like candy than fruit and I was so surprised to find the scent really lingered on my hair long after I styled it.
It's a very thick formula which works into a decent lather, but i recommend wringing some of the water out of your hair and working it up in your hands first. (I recommend a very water-saturated head before applying the conditioner--it made my hair greasy a little too quickly when used daily or without a lot of water)
Overall, I was really pleased with the shampoo but thought the conditioner might be a little too oily. However, when I reduced the application of conditioner it worked out really well. It's light weight and leaves hair very manageable, but not super soft unless you have used the conditioner. it might be a little more high maintenance than I was hoping, but Bedhead always delivers overall!

DRYING, DRYING, DRYING.
This stuff is gross. I was so excited when I found the big, salon sized bottles of this at Ulta for $9 each. I bought both the shampoo and conditioner. My hair was icky and dry. After i shampooed my hair felt like straw and like dreads were forming, so I would glop on the conditioner. the conditioner felt thick, but did not absorb into my hair at all. it's like the shampoo works against it. i felt like i couldn't rinse my hair out, and after I dried my hair it was frizzy and breaking off everywhere! I love BedHead products, but this stuff was awful. the only redeeming quality was the smell, it was a delicious scent and to me it smelled like strawberry shasta. yum! but the smell is NOT worth th damage to my hair.
---