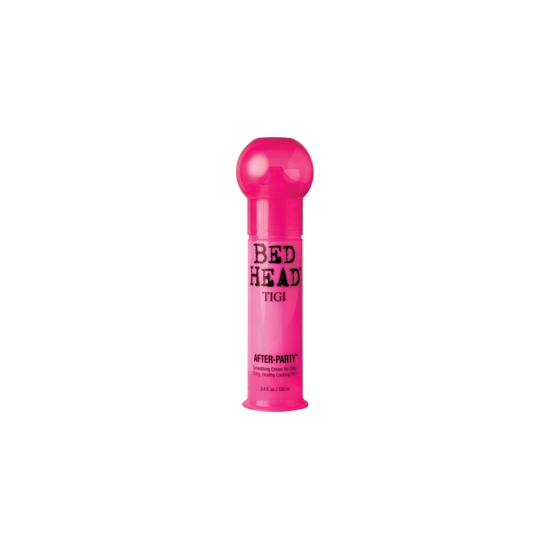 Rollover image to zoom
Reviews

I <3 tigi After Party
Absolutely worth every cent! +smells amazing +looks fabulous +most importantly, it leaves my hair soft and feels and looks healthier
I've been given a lot of compliments for having nice smelling hair by a lot of people because of this product! It's not sickly sweet smelling, but you int smell like a piece of fruit either! It's just lovely and fresh.
I usually use it once or twice a day, morning/night. It's great because it kinda deranged your hair, when putting a wide tooth comb through it.
I have really thick hair, rather course, and it is perfect! My mum has extremely course (short) hair and it works a treat in hers. I wouldn't recommend it for thin or fine hair as it is quite a thick paste.
I use it from the middle to the ends of my hair, as it seems to help with split ends.
As a negative i would have to say that if you put too much in, your hair may feel a but greasy, so less is definitely best!
So sum up I would definitely recommend tigi after party

Amazing.
I live in Houston, Texas, and if you have lived or been there, you can agree it's like being in a tropical rainforest sometimes. We have the heat and the humidity. I naturally have frizzy, thin, wavy/curly hair. So you can conclude it looks like a disaster naturally, and a catastrophe when I step outside. But BedHead After-Party has seriously saved me. It smells amazing, it smoothes my hair, it makes it shiny, there's no more frizz, it lasts along time, it's affordable, and it's not an oil serum so it doesn't make my hair look oily. I definitely recommend it!

best ever
I can't live without this stuff!! OMG. Seriously, I used to use it ALL the time, and then I stopped. My hair was just not looking as good. I noticed a lot in pictures and then when I picked it back up again and started using it, my hair is back to looking amazing. This is so worth it and should be a part of anyone's styling regimen!

AWESOME!!
It is worth every penny. It's not too light, it's just right. I think the scent is very similar to the perfume "Pure Seduction" by "Victoria's Secret". Which happens to be one of my all time favorite perfume scents. It leave my hair soft, hydrated, and keeps it tamed. It doesn't leave your hair feeling oily or greasy, and I think it is almost like an all in one product. You could also consider it perfume for your hair. <3 I recommend it.

Awesome and smells great!
I have dry hair and i have always tried to find a product that i can use right after the shower before i style and even though that's not what this is for, i use it when my hair is still damp right after the shower and i have towel dried a little. i have about three bottles of this stuff floating all over my house right now! i have been using it for about three years and i love it! i use it after styling sometimes too to tame fly-aways, its light and not greasy!

Best smelling thing you'll ever finish your hair with!
You blow dry, your straighten, you curl, and just when you think you're done you see that the shine is all out of your hair and on top of that you're already frizzing up again! That was my issue and my stylist recommended After Party to tame down the small frizzies, add the shine back, and give the girly bonus of awesome smelling hair (which is much needed after all that heat-treating)! A *must* for girls with wavy/frizzy hair they regularly straighten.
---