Midnight Pomegranate Fragrance Mist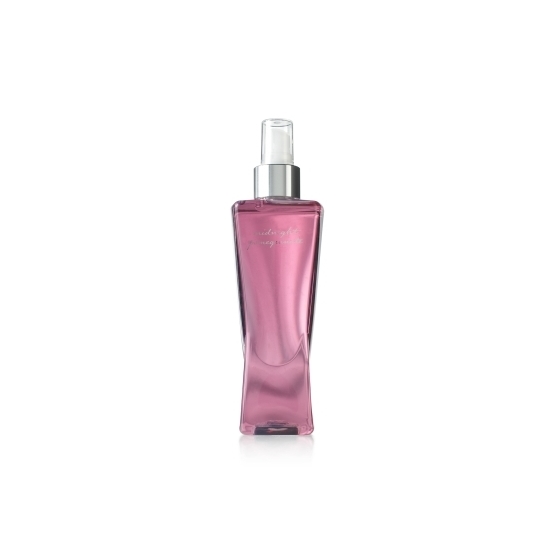 Rollover image to zoom
Reviews

Got to get this
I haven't bought it yet, but by the looks of it, I have a god feeling that I would like this perfume. I am satisfied with all the other fragrances by Bath and Body Works, so This one has to be good.

Bath&BodyWorks Midnight Pomegranate is "a blend of juicy pomegranates, anise, patchouli, blackberries, and cassis". I purchased this scent for two reasons. First off to try a Bath&BodyWorks body spray, and second, because pomegranates are my favorite fruit. Bath&BodyWorks products are not tested on animals. I purchased my 3 fl oz (88ml) travel sized bottle in store, for $3.34 on a 3/$10 deal. It regularly retails for $5 for 3 fl oz or $12 for 8 fl oz. I like the packaging for this body spray. The plastic, red bottle is sleek, rectangular, and nips in at the middle. There's not label on it aside from a small clear sticker that says "Midnight Pomegranate" in gold lettering. I think the minimalism of the label suits the shape of the bottle. Midnight Pomegranate has a slew of scent notes. I'll list them out, as posted on B&BW's website. Top Notes: Pomegranate, Sparkling Citrus, Dewberry, Anise, Cinnamon, and Nutmeg Mid Notes: Cassis, Blackberry, Iris, Jasmine, and Raspberry Base Notes: Musk, Sandalwood, Vanilla, Tobacco, and Patchouli That's a lot of scent notes for one body spray. Obviously you can't pick them all up. What can I smell? Straight out of the bottle I smell mostly raspberries with a hit of pomegranate. Super fruity. When first sprayed on the skin, Midnight Pomegranate smells very citrusy with a floral hint, I think its the iris, which isn't a very common fragrance component. Midnight Pomegranate goes on quite strong, but dries down quickly and becomes a softer, muskier scent that still has a bit of tart berriness to it. The blackberry in this scent reminds me of the smell of gummi worms. It makes me happy. There's something very energizing about Midnight Pomegranate's scent. Probably the citrus. It's a great fall scent. But I'm really perplexed about about something...why doesn't Midnight Pomegranate smell like pomegranates? Shouldn't they have named it Midnight Raspberry or Blackberry? It has the same ring to it and is way more descriptive of the scent. Or just added more pomegranate to it? The pomegranate scent is just so faint that I'm not sure why this scent has the name it does. Midnight Pomegranate lasts well for a body spray. I can still smell it 6 to 7 hours after spraying. Cause of how long it lasts, I rarely feel the need to reapply Midnight Pomegranate unless I'm having an exceptionally long day. I suggest checking Midnight Pomegranate out if you like deep, fruity, berry-heavy scents like I do. This fits that category perfectly. Midnight Pomegranate is a good scent for a good price. I love fruity scents and this is fruity while still being complex and a little musky. Give it a try next time you hit up Bath&BodyWorks. If you can get it on sale or in a deal, it's a great value. Midnight Pomegranate is now a staple in my scent wardrobe, and I hope it becomes part of yours.

Pomegranate's are my new best friend!
I love this fruity, playful scent! I've never liked pomegranate's, but now, that's the only scent I generally like! Midnight Pomegranate is the most unique, enticing smell you will find! If you like fruity, musky scents, this is totally you're new best friend!
---