Japanese Cherry Blossom- Body Lotion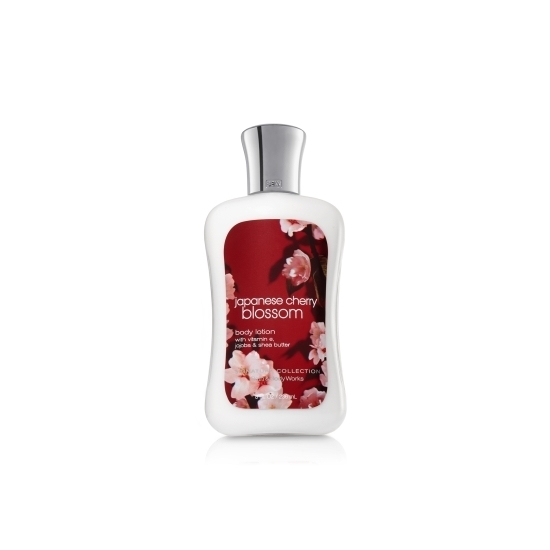 Rollover image to zoom
Reviews

Smells and feels wonderful
I was very satisfied with this product, because of it's wonderful scent and how soft my skin feels after I apply it to my hands and arms. Bath and Body Works has some great lotions, including this one.

I love this!
This one smells *so* good and it moisturizes really well, which is the point of buying the lotion in the first place. I absolutely hate buying a lotion that ends up wearing off of your skin and you're ashy a few hours later. Hate that. But not with this lotion, or any other lotion from Bath & Body. It's creamy, moisturizing and smells great. I have bought this more than once because I love this so much lol.

LOVE LOVE LOVE
I love this lotion by Bath and Body works! The Japanese Cherry Blossom smells absolutely amazing. The scent is strong and last for a long period of time which is a plus. Not to mention that the lotion is very moisturizing for the skin. I do have a few other scents but I would have to say that this one is my favorite.

Perfect scented lotion!
I absolutely love this cherry blossom lotion! Not only smells supper amazing but it helps moisturize my skin! The smell stays on all day for me! this is my alternative to wearing perfume. Some days I decide not to wear my perfume I go with a scented lotion and this one is the best!

Smells Wonderful :)
I am a very big Bath and Body works fan so I love a lot of their products. I like the smell of this but its not my go-to scent. Plus everybody wears this so I don't want to smell like everybody else. It is a very heavy scent and lasts for a long period of time on the skin. I have to mix it with unscented oil, to bring the smell down some as I do with all B&BW lotions. Very creamy and smoothe on the skin as well
---