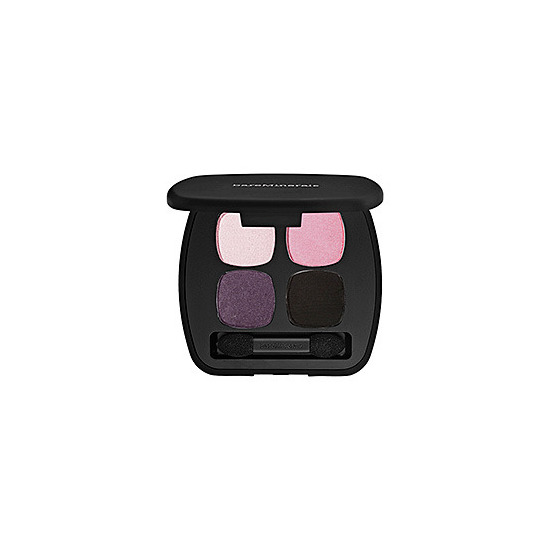 Rollover image to zoom
Reviews

Amazing Color!
I really love this quad! The deepest purple shade offers a great alternative to black for a smokey eye - and there's a light color that's perfect for highlighting with and an iridescent pink that will surprise you! This formula is incredibly blendable and I've fully fallen in love with it!

Yet another amazing BE product
I have 3 of these 4.0s, but the Rare Find was my 1st one. I love the color combos BE came up with. Some look a bit unusual just looking at the palette, but wear beautifully with the other colors. I also love that the shadows are finally "travel friendly" as I am on the go all the time. The only downside is that you can't choose your own combo. Many palettes I won't buy because I would only use 2 of the 4 shades. Also, I do have to mention that the pressed shadows are not as easy to blend as the loose minerals are, but they're definitely not horrible by any means.

Mary Anne M.
Dec 10, 2012
Soft, Velvety Texture, Wearable Color & Amazing Pay-Off
Typically I don't purchase higher-end eyeshadow combinations because they often come in color combinations that I can easily find in or among drugstore products, for far cheaper. The perk of higher-end eyeshadows for me is in the quality of the packaging and the longevity of wear time, which unfortunately isn't always worth the outrageous price tag. Luckily, I received The Elements quad as a gift!
I was especially drawn to The Elements because, of all the READY quads, this quad had the most striking combination of shades that I have not quite seen a match for in quality or color selection in drugstore quads. The lightest shade, Satin Taupe, is the only shade with shimmer and works great as an accent or highlighter for the inner corner, mid-eyelid, and upper brow, while the other three shades are entirely matte and subdued. Because of the strong contrasts of light and dark colors (especially Autumn Leaf/orange and Teal Smoke/blue) and incredible pigmentation, it's really easy to mess up a look and go drag right away, so I don't really recommend The Elements for eyeshadow starters. Those who are a little more daring might appreciate the how-to eye chart inside the box though!
The packaging is a neat, matte, mirror compact that includes two sponge applicators that I don't bother with (use a brush or fingertips). The matte compact does get dirty easily as powders cling to the surface all the time as opposed to a glossy finish, but hey, it's a good thing that the shadows are well-pressed! Hardly any fall-out here.
This is a great experimental palette for those who are more seasoned in applying eyeshadows, as any combination of the four unusual colors can still look great and understated. The textures are soft and velvety, and the color pay-off is intensely pigmented and long-lasting (9 hours of wear and still looked freshly applied!). It's a little expensive at around $30 (about $7.25 per color) but it's a steal against buying shadows individually, and you get a really nice mirror compact with it. Definitely splurge-worthy!
---