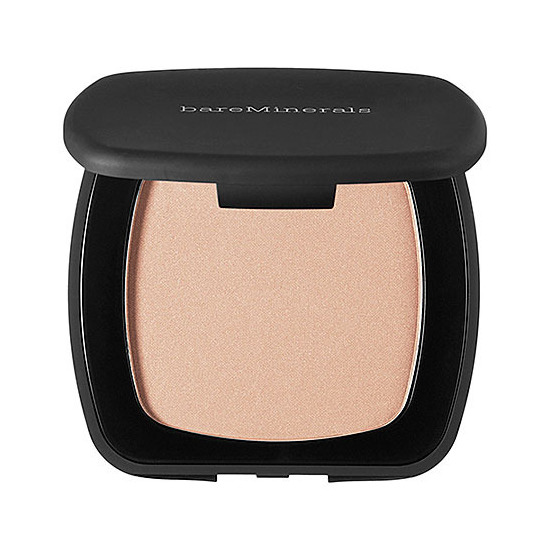 Rollover image to zoom
Reviews

LOVE LOVE LOVE
I love liquid foundations because they are build-able. I was looking for a good pressed powder and found a GREAT one! I love this! I was using the optical blurring brush from UD for a long time but I finally invested in the travel size precision brush, both work so well but the B.E. precision brush gives more coverage. When I use this foundation I do not need to use a coverup and usually do not need an under eye concealer. I would recommend everyone at least go and try this product. I love mine!

Absolutely flawless!
I love this powder foundation, wears like liquid foundation, gives a flawless coverage and very lasting. I highly do recommend primer & the precision brush to go with it, it really makes a difference (buff in circular motion) Also buildable coverage can be used for concealer too. Its also good for your skin. Whats not to love? Test before you purchase the shades are NOT as dark as they look. They look lighter on skin.

The Foundation of my Dreams!
I have used BM original foundation throughout my twenties and only BM foundation. When I hit thirty my skin changed, became dry, more fine lines showing all that great stuff. I then began experimenting with other brands because I felt I needed more hydration and coverage. Mac was ok, M.U.F.E was better, and in the summer I would wear a tinted moisturizer instead of foundation. I hate looking like I have foundation on as I am not a heavy handed makeup wearer. Bare Minerals launched this Ready foundation just in time adressing all my specific needs. It doesn't look like you're wearing a thing! It's hydrating & gives you a very natural finish, it's not as glowy as the origional I wish it was but it is not a matte finish either, it's somewhere in the middle. This is also full coverage, I barely need concealer and I love that. If you do choose to give this a go make sure you are following the new instructions with this foundation, first of all go to a boutique and get matched as this foundation runs a bit lighter that the original, use the proper angled brush made specifically for this foundation, and use long strokes when applying instead of the old buffing technique. Also make sure you are priming your face with BM prime time I noticed other primers don't work that well with BM's foundations as well as prime time does. I highly recomend trying this out if you don't like the look of cakey makeup face, if you suffer from dry skin, have some discoloriing and just want that naturaly beautiful look. I am deep in love with this foundation and will probably use it as long as I can as an everyday foundation.

my new regular foundation
I LOVE THIS PRODUCT! My mom and I were interested in getting the new foundation instead of using a powder by bare minerals. We automatically fell in love with the product. The product matches my skintone PERFECTLY. It also blends in really well!! I use the precision brush with this product and it has such great coverage! I recommend this to anyone who wants a great foundation with great coverage!!

Absolutely love this stuff! I've on and off used the loose mineral powder for years and it covered okay, but A: I was using the lightest shade and it was still too dark for me, B: It was totally messy to use and C: I had to use like a third of the jar to actually cover up all my acne. But this stuff runs very light (I ALWAYS have to use the lightest shade of foundation but not this one), its mess free and easy to throw in your makeup bag and it covers just as good as a cream or liquid and without using much! I never thought I'd get this much coverage out of a powder compact foundation but I love this one :)
Back to BE
I've use BE foundation for years until I got tired of the mess. Not only did I have to wipe down my vanity counter after every makeup application, traveling with BE foundation was troublesome too (even after they started using the twist and lock sifter). Once BE and Shiseido "joined forces" and the Ready Mineral Veil was released, I knew it was a matter of time before the Ready Foundation would make its appearance. Although I've been using Laura Geller Balance-n-Brighten and MAC's Studio Fix foundation (and love them both) I recently purchased the BE Ready Foundation and am back in love with BE foundations. It has buildable coverage just like the loose powder and comes in a slim compact. I can't say that I'll ONLY use BE foundations...but I can say that the Ready Foundation will be a part of my cosmetic arsenal for now on.

I absolutely LOVE Bare Minerals! When I found out that they came out with this new compact foundation, I had to go out and give it a try. I had to get one of the makeup artists at Ulta to match my skin tone and let me tell you, when she applied this product to my face, I was in love! If you love the feeling that the loose powder gives you, where you feel like you don't have anything on your face... you'll definitely love this Ready foundation, just in a compact. Sticking to Bare Minerals has got me not wanting to go back to my MAC Studio Fix.

Awesome
Just got my first try at this foundation yesterday and all I can say is WOW. To the touch the powder is super creamy, feeling like a cream foundation. The pigment content is higher than any I have ever seen. A little dab on the kabuki spread far and wide with more coverage than the original foundations. Finish looks more like a liquid than a powder though not "wet" . Could be very easy to over do it on this product coverage is near 100% with very little underlying skin color showing through. The powders go on lighter than they appear - or if you are familiar with the original loose colors be advised you may have to go a shade deeper in this line. Photographed beautifully with little touch up. BE has made some wonderful updates since they were purchased by Shiseido. 5 stars.
---