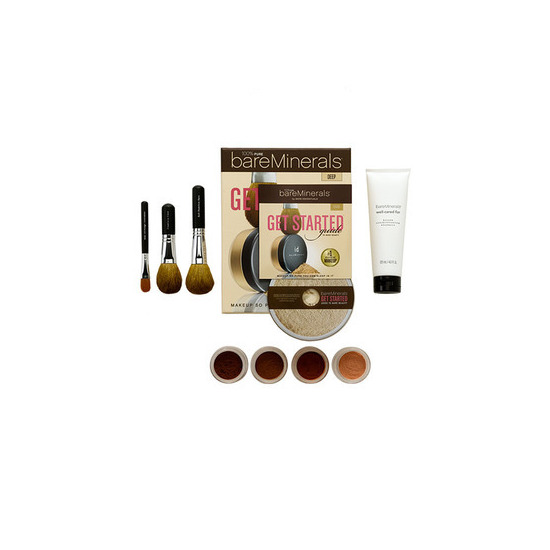 Rollover image to zoom
Reviews

The concealer is AMAZING at covering redness!
I have acne on my chin area and I purchased this through recommendations. I have used this kit about 4 times thus far. I have to admit for the price ($85AUD at Kit Cosmetics) is a bit ridiculous as the foundation pot sizes are quite small (by the way why does the kit need to colours?!) I would have preferred one colour in the standard size. Because in order to get good coverage you really need to layer quite a bit and I feel it wont last very long. Plus, the main foundation brush that comes it is OMG awful - it sheds like crazy!
In saying that, I love the finish these products give my skin. It looks airbrushed, healthy and not overly made up which i've been liking!
The concealer is first class and the concealer brush that comes with it. They cover redness extremely well and don't cake over my acne which is amazing as most concealers I have tried in the past cake and flake the area.
Overall, I would definitely repurchase separate items from the kit - but not the kit as a whole.

Helps me face world
I have HORRIBLE skin. It is a fact that I have come to terms with ever since I reached puberty. I have combination, acne prone skin. I have a ton of acne scars and hyper pigmentation covering my skin. Since high school, I have been pushed and pulled into every brand of foundation possible. And all of them made me feel like I was wearing a mask and my skin couldn't breath. On top of that, they just irritated my skin more and cause more problems. So eventually, I just gave up and didn't wear anything. Until I discovered Bare Minerals. And when I tell you it was like a whole new world opening it up, I'm nor exaggerating. Not only is it light and make me feel like I'm not wearing anything, it looks that way too! It covers my acne scars completely and looks totally natural. And it seems to also help my skin become more healthy because it doesn't clog my pores. Bare Minerals is a MUST. SN: My color is warm deep.

perfect!
i love this product...i have been using bare escentuals for probably 4 years now and i am so happy with the products i get from bare escentuals....i use this on my face every day for my foundation and find myself to feel a full coverage and confident and this kit helps me understand where to get started and helps me create my own makeup routine

Great for beginners!
I really love bareMinerals, it's light on your skin and gives great coverage. The brushes are the best I've used and would recommend them to anyone. Don't be frightened of the Warmth bronzing powder, it isn't as dark as it looks, (trust me I'm pale!) it gives a lovely healthy glow. It lasts for a long time, so it's worth the money you're paying.

Violet likes DM S.
Jun 13, 2011
Its like I'm wearing nothing at all.
Bare Minerals is a hit or miss for people and in my case, it's a total Hit! I love how it feels like you're not wearing anything on your face but look flawless or at least close to it. This kit is great if you want to try it or even if you're like me and have been wearing it for years. These are the perfect size for your purse, travel bag or gym bag.

BEST MAKE UP FOR THE SUMMER!
I prefer to wear this make up in the summer only because my skin gets so dry in the winter. This make up has great coverage and since it's powder based, it doesn't melt like my traditional liquid to powder foundation. Say YESSS for STAYING POWER! It feels so light on my skin and looks au natural. I LOVE IT! The warmth powder gives my tan such a beautiful glow. I ALWAYS get compliments on my skin when I wear this make up! Always!
---