Skin So Soft Original Bath Oil - 24 fl. oz.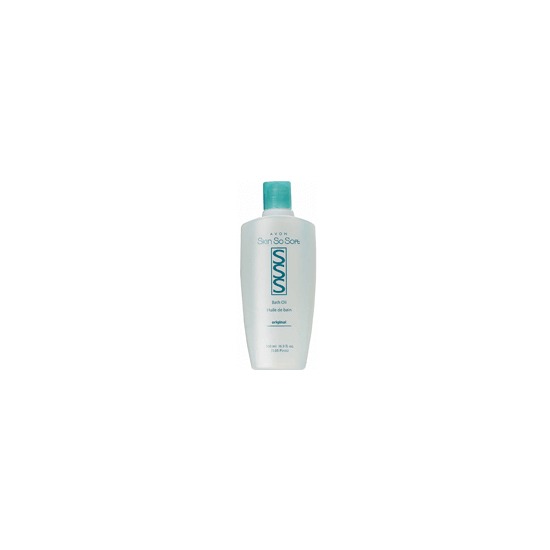 Rollover image to zoom
Reviews

Alexandra F.
May 02, 2012
I cannot technically say this as I am an Avon Rep. but( whisper best bug repellant EVER)
I cannot say that loudly because its not sold as a bug repellant but tried and true product to keep those bug away all night long while keeping your skin sooooo soft.
please shop my webstore for this product: youravon.com/alexandraferris

Snap! This product brings back memories...
of my mom! lol. She used this product when I was younger and it was one of those wake me up from my sleep when she was showering for work scents. I love my mom and I loved this stuff. The sent is really strong and if you like oil this is the product for you!

Trust me-
Maybe its been discussed before, but yeah this is a little weird....=) I don't like the smell, never have, reminds me of nursing homes and moth balls, but....BUT I have never found another product out there that will keep you from being eaten alive by mosquitoes and gnats, pinky swear, it works out here in the four corners area. just rub some on exposed skin before heading outside and your pest free, mostly...=) I have been using it since I was a little girl and am still using it to this day. Its a must for a summer evening outside.

I am a new AVON rep.
I've been using Avon products since I was a little girl. A family friend was an "Avon lady". As others have noted, this body oil is a great go-to for everyday wear. Leaves your skin feeling young and energized! I really love Avon products because they are practical, easy to use, and of course BEAUTIFUL!
Buy Skin So Soft and much more at my webstore: http://www.yourAVON.com/EmilyMeza

love the skin you're in and give it this luxurious treat
I shower then spritz this wonder on my wet skin and allow the aroma to take me away. the oil is lightweight but it still feels a bit much on hot mights so you might want to fins another emollient for those hot nights. if you do not believe me ask my husband, he uses it and he is addicted, plus it gives him a reason to skip lotions

LOVE!
Love this body oil. It leaves my skin feeling soooo soft. Once my skin is dry it is not greasy! My skin glows and it looks healthy after several uses. Very inexpensive for a really good product. Only downfall for me is always looking for a representative to buy it again.

Sophistocrat B.
Nov 20, 2011
This is something short of amazing. Yes it makes your skin feel amazing, Yes its great in and after the bathtub, Yes even for eczema or psoriasis......But guess what I found out...This stuff is the Lace front and Full lace wig glue exterminator...lol. pour a little wherever adhesive is and it automatically begins to release,..A little on a paper towel and wipe any remaining residue that might be there, if any. This oil smells just as great as it works, skin loving, AMAZEBALLS!
---