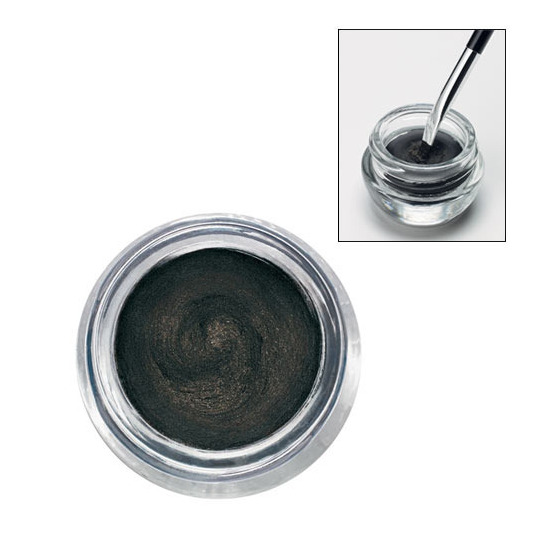 Rollover image to zoom
Reviews

deffinatly too dry
I have only tried to use mine a couple times, and every time i wound up washing it off. I really dont like this product. Its dry and too shimmery. I have mine in black and its not a very vibrant black either, if u try to put another coat on it just clumps up and looks disgusting. Do NOT Recommend

NOT GOOD FOR EYELINER but REALLY GOOD FOR EYEBROWS!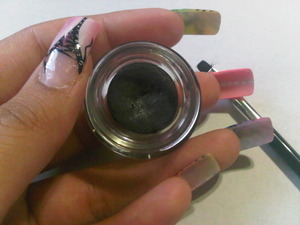 0.0 stars for eyeliner. It's a dry gel eyeliner. 5.0 stars for eyebrows!!
Did some experiments on the eyebrows and was PERFECT!! All natural look! The pencil doesn't do the same and the gel eyeliner doesn't run off your face when you sweat! I personally can't use it anymore on my eyebrows, because I got them tattooed. But did make-up on people and I used it on them.........definitely happy with it!

I change my mind!
BEFORE: 5.99 that's how much this mistake cost me, first of all there is way too much shimmer in this product, uuh gel? really, not so much. I hate the consistency, wait a minute it does not have a consistency because it's almost like a cream to powder eye shadow...displeased! NOW: I find myself reaching for this more and more, back when I first bought it I was displeased so I parked it in my reject container, but now I use it to line my eyes and it's not that bad, I am still not too keen on the shimmers but it works when you want a little edge without tons of makeup so I would definately give it a try and tip a little water in it to help the dryness of the formula.

SuperSHOCK Eyeliner in Metallic Teal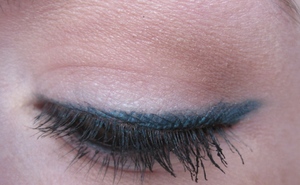 I have to agree with Leanne - mine was terribly dry! After numerous dips I had this skipped, not-fluid line, and don't even try applying this to your waterline.
While Cici says she had to add product to make it work, I don't feel like a product should need any assistance, especially having to mix it with something else to get it to do what it's supposed to do. I'm not saying it needed to be more pigmented, or more long-wearing, but you should at least be able to *apply* it!
Of all the Avon products I've tried thus far, this was the most disappointing. I'd skip it, and try one of their superior quality products like their Ultra Color Rich Lipsticks!
-- Photo attached is after multiple re-dips.

Pleases Me
Yes, this product may be very dry but after I mixed it with some eye drops and petroleum jelly, it was nice and smooth. Afterwards, it went on like every other GOOD gel liner. This one has just enough sparkle in it and it lasts just about the whole day :)
---