Ergonomic Rounded Eyeshadow Brush
Rollover image to zoom
Reviews

This works it's magic
I'm the lazy girl who uses one brush applicator for shadows and surprisingly enough this is the brush I use! It works it's magic really great! It blends shadows great, very easy to handle and manage, it's small and soft bristles are so gentle on your eyes too! Very cheap and affordable so it's a must have purchase for a regular eye brush applicator!

Great Brush, a must-have!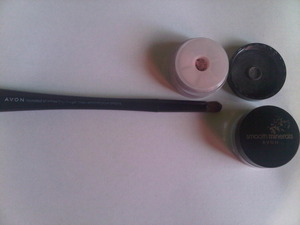 I bought this to try it. I had bought several brushes but the hair kept pulling off of the stick. This one stays very good. The brush is small, roundy but it's good to brush with it. Especially when doing "smoked eyes" or colorful colors. It looks like the Meet Mark. Eyebrush. Some brushes, the powder remains full inside and doesn't release the color powder very well or it splinters all over doing it messy. This one is like precise and the powder remains at the point of the brush. In fact it's small, but I attached a picture so you can see. I think that perhaps it was an idea of AVON by using it easier to stick it in the Smooth Mineral hole.

First brush!
This was the first brush I ever bought and have had it for 3 years, it's still in great condition and I use it everyday. The ferrule fell apart a few months ago but I just super glued it and it's back to normal. The handle is a nice glossy black, I think it's plastic not sure tho, but it doesn't feel cheap. The brush is comfortable in my hand and I have great control over it. The bristles on this brush are so soft and are tapered into a dome shape, also there has been very little shedding in the 3 years I have had this brush. This is a great brush for all eye shapes, I have a small eyelid area and this brush comes to a pretty small point at the top so it can really concentrate in a small space, but it also can cover a bigger area easily also. Now what I mainly use this for is adding color to crease and as a blending brush, since I don't have a proper blending brush, and it does the job perfectly. I have to say tho it can be used to do your whole eye look and this is what I used to have to do before I got my other brushes.
Would I recommend this? Yes, this has been my go to brush for years and it has never let me down, plus it's a good price point ($2.99) too. You won't be let down if you buy this brush.
---