Positively Radiant Tinted Moisturizer SPF 30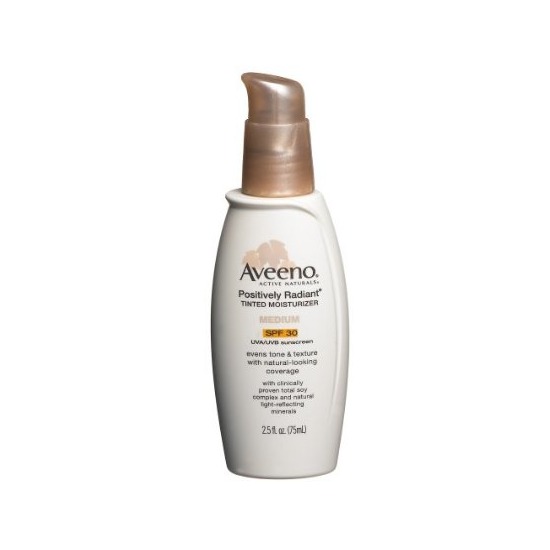 Rollover image to zoom
Reviews

This stuff is absolutely amazing. It makes my skin look so glowy and naturally flawless! I use it as my moisturizer under my makeup sometimes, or just on it's own with some setting powder and I'm good to go with a little concealer. It has alot more coverage than your average tinted moisturizer. I'd call it a very lightweight and sheer foundation.

I get so many compliments on this!
I have been using this for about a month now, and have to say I'm officially addicted!
It doesn't provide me with a whole lot of coverage- I have acne, scarring and redness. However, it does give off an amazing glow, and really adds something to my foundation routine (I use a primer, this, and bare minerals). Every time I use it, someone compliments me, and asks how I get that "inner glow". I tell them about this product!
I use fair to light, and it is the perfect color for my super pale skin.

Perfect for an everyday face.
I ran out of my ELF Studio tinted moisturizer and this was the only tinted moisturizer I could find at Walmart. I love this stuff. I don't like to wear foundation daily but I wanted to find something to even out my skin. This does that perfectly.
This product makes it look like I am wearing nothing on my face. It smells good. I've never noticed any sparkles like other reviews say. It has pretty good coverage, especially for a tinted moisturizer. It moisturizes great. And it goes on like a dream.
The downside, for most people, is that it only comes in two shades. I have super pale skin so the light color is just slightly darker than my skin tone. The medium color doesn't look dark at all. It also might be too much for a person with oily or combination skin.

Perfect for on-the-go
I keep this in my purse with a little powder just to freshen up every now and then! I've used other tinted moisturizers and this is by far the best. For anyone with normal skin, i definitely recommend this to (1) avoid heavy makeup, and as a result (2) prevent breakouts and keep the skin looking healthy. Avoid legitimate foundation at all costs!

Not sure if I like it for me, but worth a try.
I usually like Aveeno products so when I ran out of tinted moisturizers I thought I'd give this a shot! The first problem I had was the color. I'm a pretty pale person (Slightly darker than Clinique's Alabaster) so I figured fair to light would be the best bet. WRONG! It was sooo light! That could probably be fixed by trying the Medium, but I had another problem with it. It made my skin look like it had flaky patches. I tried exfoliating a lot and using a lot of moisturizer first and it helped some, but it also made me look oily when I did that. Maybe if I had normal skin this would work, but this seems like too much fuss for a tinted moisturizer. I will say that the coverage was nice from what I could tell (the color was distracting). At the end of the day, I would say it is worth trying if you have pale and definitely not dry skin. Unfortunately there is only 2 color choices so darker skin tones have no options.

Bianca Nicole C.
Jun 29, 2012
I broke out...
I thought this would be a the best purchase ever since Aveeno clearly is suppose to be a company with natural ingredients ans such. I didnt like the fact it was very messy and caked up. I also didnt like the fact it burned around my nose and chin by my mouth I also broke out really badly. Not in love with this.

I could be Edward Cullen's girlfriend, a vampire!
My skin is kind of pale, I must admit. Whenever I put this on, my skin glitters! And so people give me weird looks, like I'm going to bite their neck or something! Ha ha! But it's great to use in the summer, when my skin is tanner and that shimmer looks natural. But now, while its winter, I find this to be useless.
---