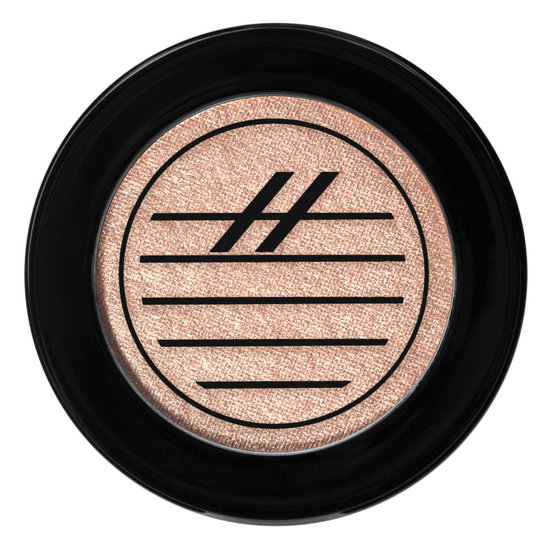 Rollover image to zoom
Reviews

Rose Gold is a must have for blue eyes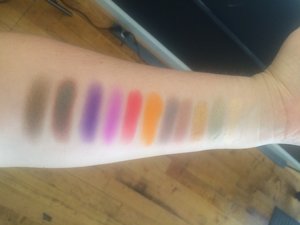 I've been having a lot of fun playing around with these pressed pigments. I prefer a pigment type shadow and so naturally had to add these to my collection. I have worn rose gold on my lids everyday since I got it and am so happy with it. I have worn it with a primer and it still looks nice after 12 hours and without a primer it stays pigmented but I have noticed that it will transfer to my crease from my lid. I do have hooded eyes and I have been wearing it during HOT weather. I prefer the metallic shades to the matte shades as I feel like they are creamier where the mattes (in typical matte form) are a little chalky. Here are swatches of every shade except Hell (in ascending order left to right) Vintage Gold, Peacock, Royal, Orchid, Punch, Tangerine, Disco, Rose Gold, Copper, Heaven, Sunday.

Team
MULTI-DIMENSIONAL. SO PRETTY!
The name Peacock is so fitting for this eyeshadow because that's exactly what it makes me think of! In certain lights it comes off brown and in other lights you can see hints of green and turquoise. It's got a duochrome finish, similar to the Kat Von D Shadeshifter shadow in On the Road. KVD's has more of a brown to me and the Ardency Inn I see a bit more green and blue. Like all the Ardency Inn shadows I've tried, pigmentation is outstanding, super buttery feeling and easy to apply and blend. I love to just use this as an all over wash of color on my lid, put some Natasha Denona Blackest Black shadow in the crease and blend out, heavy eyeliner all around and a couple coats of mascara and BAM! Look done. Simple and easy. Next up, I want Rose Gold!!

My go to!
This is my rescue shadow. If I've created a look and something has gone drastically, horribly wrong, this is the shadow I throw on top to easily transform any mishap into magic. It's hands down the best Rose Gold shadow I've ever tried, and can stand on it's own. I agree that the size is small, but it's also a powerhouse. With regular usage, I barely see a dip in the pan. It's an incredibly soft formula, which on the downside means that if you drop it, it will shatter.

Christine H.
Oct 21, 2015
Beautiful but small
These are such gorgeous shades with crazy pigmentation one of the best I have ever used! However I gave it 3 stars because it is the same price as a MUFE artist shadow and the size of a sample eyeshadow from Sephora it's crazy it's a little bigger than a quarter

Beautiful and easy to work with!
I love these pressed pigments. While I don't think they are the most pigmented eyeshadows out there, they are definitely some of the best. I use the shade Royal for many of the purple eyeshadow looks I create and it is awesome! It is smooth (not creamy) and applies well with a brush--no need to wet your brush! The eyeshadow blends well, but if I blend too much, I need to touch it up or re-apply. The downside? It is a very small eyeshadow in comparison to other shadows out there. I compared it to one of my standard MAC eyeshadows and they appear to be the same size.

Beautiful shade, but too delicate.
I bought the Rose Gold shade. The color was beautiful. I hadn't had it terribly long when I opened it and it was shattered. I haven't had an eyeshadow shatter on me in over a decade, and the last time it happened, it was a cheap drugstore product. So needless to say if I wanted a loose pigment, I would have purchased one.

Great shadows but a little pricey
I love the 2 Ardency Inn shadows but if there was a 4.5 stars I would have given that instead of the 5 simply because the price is pretty high for how small the shadow is and how cheap the packaging feels. If you can get past that though the actual product is spot on! I have Sunday and Heaven and they are both gorgeous all over lid shades, especially if you use your finger tip or a stiff brush and really pat them on the lid. I wish Ardency Inn would offer a palette with multiple shades or offer a little nicer packaging since these tiny shadows tend to get lost in my makeup drawers.

Gorgeous!
This eyeshadow is SO pigmented and reflected. I can't even begin to explain the beauty! I have the rose gold and copper and I'm in love with them. They are such a perfect eyeshadow. I can't believe that I just discovered these. They are a must have for any eyeshadow-lover out there. Just beautiful!
You can check out some more reviews, tips, and tricks at:
youtube.com/c/tanyafeifel/videos
XOXO!
---