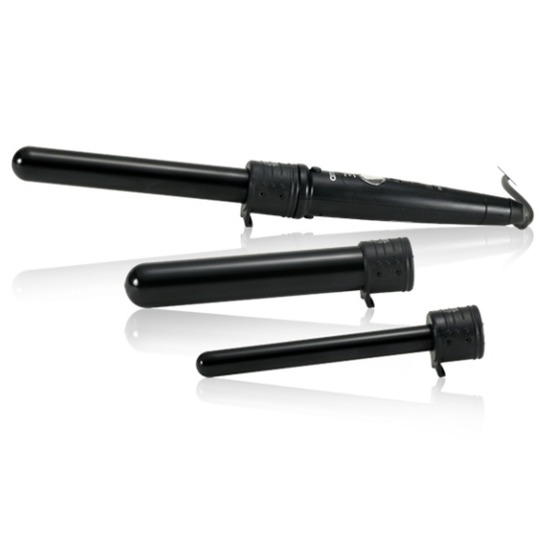 Rollover image to zoom
Reviews

LBDEvents L.
Dec 20, 2011
Great for all hair types and most lengths
This is by far the greatest styling product I've ever purchased, mostly because of the versatlity, having three different barrel sizes to use is so convenient. It's awkward at first but watch a few a videos of PROFESSIONALS using it and you will be able to easily pick it up. I suggest on a night you're staying in experimenting to see what you like, you can get great big volume, bouncy curls or loose waves. Play with it and have fun! I always get so many compliments when I use mine no matter how I style my hair.

YET ANOTHER AMAZING AMIKA PRODUCT!!! PERFECT CURLS AND SUPER EASY TO USE AFTER A TINY BIT OF PRACTICE, COMES WITH A GLOVE SO U DON'T BURN YOURSELF, YET AFTER YOU PRACTICE A LITLLE YOU DON'T EVEN NEED THE GLOVE. 100% UNCONDITIONAL WARRANTY, TOURMALINE, CERAMIC, TOP-OF-THE LINE, CAN'T GO WRONG!!! SUPER EASY TO USE WITH 3 AWESOME CURL SIZES, BE YOUR OWN STYLIST, SAVE $ AND CREATE YOUR OWN CUSTOMIZED LOOK!! LOVE YOUR HAIR HONEY!!

Pricey but totally worth it
The 3 barrels allow you to create a lot of different looks with one tool. The smallest barrel gives you Taylor Swift style curls, the middle gives you nice big ringlets, and the large barrel creates those Kim Kardashian loose waves. The curls come out perfect and shiny every time. And the best part, the hold is amazing, the curls literally last until your wash them out, you don't even need to add product. I'm in love.
---