Beauty Product Reviews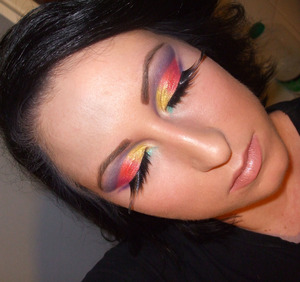 Pretty...To look at!!
After a post I did 'My Mister's Gorgeous Sister' a lot of people started telling me about their bad experiences with The NYX Glitter Pallets so I thought I'd do a review. I'll be honest it's not the best or the easiest thing I've ever worked with, but weirdly I still like it...maybe it's cos it's just so darn priddy! The first buggit thing about this pallet is that I couldn't get in it!! I can only assume it's a one off flaw as I've not really heard anyone else moan about the packaging, so we'll let that one slide...even if I do have to open it with a knife every time I use it! When I do eventually get into it and swatch it on my fingers I'm mesmerised!! The colour selection is amazing, the colour payoff on my fingers is incredible, it's not even too bad on my arm. I can't wait to try it...and that's where the problems begin!! Try as I might I just can't get the same payoff on my eyes as I do on my fingers or my arm. Admittedly some colours are better than others. The density of glitter in some of the shades is a lot greater than in others and it tends to be these ones that have the better payoff. The others seem to have too much gel, which almost obscures the glitter!! This gets worse the more you touch it as well, as the gel starts to cream a little and goes opaque, then you can barely see the effects of the glitter at all. The swatches on my blog http://notdblog.blogspot.com/2011/0... are all done with 4 swirls of the pan and one swipe onto my arm so you can see the inconsistency. I've tried all kinds of ways to apply these to get a decent effect. Straight onto the skin, over shadows, with my fingers, with a brush. I've even tried the little foam applicators that come with it, and if that's not desperate I don't know what is. I don't think I've used one of these since I was about 6 and I used it to smear blue eye shadow all over my face!! That said, the little foam applicator wasn't too bad if you just want a light effect. The only way I can get the same effect on my eye though is to trowel it on!! No seriously, I spread it with a small pallet knife. But this in itself presents further problems as the product is too thick and starts to crease. I just can't win!! So I guess all in all this pallet is ok if you just want a light smattering of glitter and you're not bothered about the inconsistency between colours, but if your looking for a full on Drag-tastic glittery look this is not the product to go for. On the whole I do really like NYX products, some can be a bit hit and miss but most are good value for money. Given that the glitter pallet is not very expensive I'm glad I have it...even if it is just to look at haha! Honestly I think I will use it again. I'll persevere, cos if I can crack it I think it could be fabulous!!

I've had better!!
I'm afraid from the looks of it this is going to be a pretty controversial review. I know a lot of you guys love this product, but what can I say...It's just not for me. I'm sorry I just don't like it! From the outside it looks quite promising (I'm a sucker for packaging). The little potion bottle is really cute & the applicator is easy to use...but I've come to learn aesthetics aren't everything and appearances can most certainly be deceiving! About half way down the tube you'll find you can't get anymore product out and that pretty little potion bottle isn't so pretty anymore when you've hacked it up with a pair of scissors! I'd much rather have access to 100% of the product that I've paid for. In terms of the product itself: When I open the bottle the smell is neither here nor there, it's not pleasant but equally it's not unpleasant. Actually it reminds me of something but I can't quite put my finger on what? The colour of the primer is like a pale cream concealer which really suits my skin, but it's just a little bit too sheer for me. Consistency wise the primer feels lovely and silky at first, but then after I've rubbed it in, I find I'm left with a tacky residue on my skin and I don't like this! To test the wear-ability I swatch a shadow with and without it. There really isn't much difference in brightness, and when I swipe over the shadow to test the staying power it just wipes right off! (I actually tested a couple of other primers at the same time as this for comparison. One was marginally better, but the other I really had to scrub to get the shadow to fade). So longevity of wear is also not good. I'm afraid I found this out the embarrassing way when I used it under my makeup on a night out. About an hour in half of my eye makeup had peeled off from my inner eye outwards...Not happy! I don't have oily skin or anything...infact its actually quite dry so I don't know why this happened? Just in case it was a one off I decided to use it again on a look I did for my blog (one that I wasn't going to leave the house in) sadly the same thing happened again. I think this is a real shame, I had such high expectations for this primer. Urban Decay make some amazing products, but for me this just isn't one of them. All in all very blah!