Beauty Product Reviews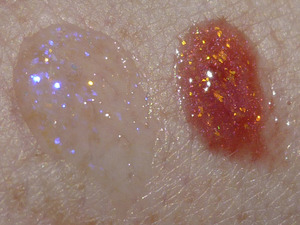 My Name Is Courtney And I Am A Glossaholic.
I am not usually a fan of glosses. Sure they are pretty, but they are often sticky, my hair gets stuck in them, my lips feel goopy and it is just a high maintenance item. There are only a few glosses that I really love. Most recently added to the list: Hard Candy Glossaholic ($5).
I gotten 4 of them, Chill Out and Fabulous. Chill Out is vanilla-flavored and infused with things that are supposed to relax you. I have to admit, I've been pretty mellow today, but not sure that it's as a result of the gloss! Fabulous is a deep, muted red color. It's nice because it's not screaming bright. And I have Fireball, the bright red and Tipsy, the bright pink!
The first thing you notice when you open them is that the applicator is HUGE, they weren't kidding when they said "GINORMOUS!" on the HC website. It is. And it does have the nifty recessed area on top that holds the gloss. Now, for why they call it Glossaholic...it tastes WONDERFUL! It is like cake icing or marshmallows. I prefer the regular Glossaholic flavor over the vanilla flavor of the Chill Out. I can't stop licking my lips...so there you go...my name is Courtney and I'm a Glossaholic.
The colors are lovely. There's glitter of varying sizes in them. The Chill Out looks like an opal and the Fabulous gloss looks like a fire opal. Mesmerizing.