ROUGE VOLUPTÉ Silky Sensual Radiant Lipstick SPF 15 – 2 Sensual Silk
What it is:
An extremely smooth and creamy lipstick with a formula that transforms into a fluid veil of radiant color when it touches the lips.

What it does:
One of these Yves Saint Laurent ROUGE VOLUPTÉ Silky Sensual Radiant Lipstick SPF 15 is sure to be your new signature color: they're sensual, radiant, and strong. With shades that drench the lips with densely pigmented color and a unique color-shine complex, lips are visibly smoothed, plumped, and radiant with luminous satin color.

What else you need to know:
It's made with a long-lasting and highly comfortable formula that contains SPF 15.

May 21, 2012
FAV LIPSTICK EVER
I don't even know where to begin with these lipsticks. The texture, colors, staying power, smell, packaging and everything else about them is nothing but 100%. Every color I have is phenomenal, but Sensual Silk is hands down my favorite. I can wear it with any eye look I have on. They go on so smoothly and you barely need any and they wear nicely without any drying and last forever!!! Can't live without them. :)

Oct 18, 2011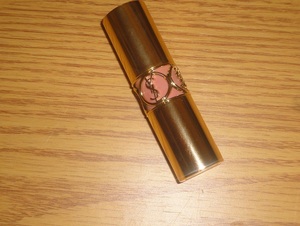 Worth Every Penny!
I love my Rouge Volupte Lipstick in Sensual Silk! It comes in this gorgeous packaging. The product inside is just as marvelous! The lipstick is creamy, pigmented & has a nice scent. The color last for a good 5 hours on me. It does not settle into the lines of my lips. I do not even need to wear a lip balm underneath this. A must have!