Lasting Finish Lipstick – Alarm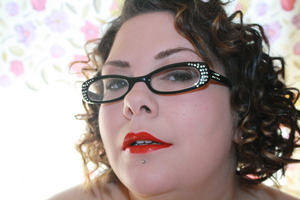 Creamy and Delicious.
Originally I bought this color to use for a show I was in that took place in the 1940's. I was a little concerned about the color at first because it looks a bit dull. I tried it out a few times before opening night just to check and make sure that it was the right color and would last for an hour with almost constant singing and speaking.
Wow. Just wow. I absolutely love this lipstick. It's rich and creamy, and smells like cherries! It moisturized my lips as well as kept them a beautiful true pin-up girl red. this is a matte finish lipstick, though it has a bit of a shimmer to it when it's applied, so to kick it up a notch I paired it with Trucco's Divynals lip gloss in Firecracker (which unfortunately has been discontinued *sadface*) which made it an ultra sexy shiny color. I was really really surprised at this lipstick, even on it's own lasted ages without needing to be touched up (about 6-8 hours) and stayed a true red without cracking or smudging or bleeding. Though to be fair I did use a concealer pencil to go around the outside of my lips (then blended it out really well) which helps the perfect red lip. The texture, the smell the length and color pigmentation on this is amazing. Even (like I said) alone it has lasting power and looks amazing if you like a nice matte lip. Even with just a clear gloss (I use the Jane Plumping Clear Gloss sometimes) it looks amazing. I highly recommend this color if you're into a really sexy fiery red lip. I don't know about any of the other colors because I haven't had a chance to pick up any more, though the price is good too. I think mine was around $4.00 CAD in Shoppers Drugmart which is a great price for a product that works so very well. You get a good amount of product too, at 4grams and the packaging is pretty cute too. So go go go and purchase! It's definitely worth investing in a few of these. Btw this is me wearing the color with hair all done for the show. Hubby demanded photos because he loves the pinup style makeup so much.