Rollover image to zoom
Reviews
Jun 15, 2014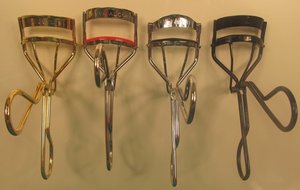 FINALLY found my HG curler!!!!
I've tried SOOO many lash curlers & never thought I find 'THE ONE' 4 these short, straight, impossible lashes of mine---BUT FINALLY--I found the Kevyn Aucoin--thank U Beautylish!!! This curler is AMAZING--it not only curls my lashes 2 perfection--it doesn't leave u w/that dreaded 'L-shaped' kink! FYI--another tip 4 all u gals & guys w/stick straight lashes like mine--after using the K. Aucoin curler--if u apply ur first coat of mascara w/a waterproof formula--it will lock the curl in place all day--an answer 2 my prayers--for sure! An extra bonus worth mentioning that sets the K.Aucoin curler apart from all the rest is that it opens up so much WIDER than any I've ever used. I've included a pic of my top curlers so u can see the difference 4 yourself! (Shu, Kevyn Aucoin, BillyB-love this 1 too, & MAC)This feature makes it a dream 2 get the lashes right where u want them in the curling device! Get this little darling!! I promise u it's the best out there! :)
Jul 25, 2014
And the winner is...
By far the BEST eyelash curler ever! The wide base is perfect for creating a perfectly curled lash. I hardly ever pinch my eyelids anymore. This is seriously ALL you need - do not look any further!!
A MUA must-have!
I cannot live without this amazing eye lash curler! It does way better than any curler I've ever used! You must your it to see! It will get ever lash you didn't even know you had. The trick is to pump the curler a few times and also to move the wanna along the lashes pumping it some more.
Eh
No offense to people that enjoy this product but, I believe that you can get like an elf eyelash curler for a dollar and it will work the same amount.
not like the other curlers. its fabulous. I have short lashes and OMG it curled it all up. As a MUA I highly recommend this. :) I use it on my clients :)
Just Perfect (:
I've been using this eyelash curler for about a year and it still works better than any eyelash curler I've ever tried, it keeps your eyelashes curled unlike most I've tried that don't even last longer than 10 minutes! Doesn't even cause a clump. Great product, I highly recommend this product(:
love it!!
I received this as part of a 'Bombshell' gift set and I love it.it works really well, and I love Kevyn A. products I have one of his books even awesome!! highly recommend.
3 weeks ago
Great!
It can curl all of my upper lashes one time perfectly, and won't hurt my eyelid. It will make a perfect and natural fan-shaped lashes, not a L-shaped. Then the mascara can be applied really easily, and won't leave dirty black marks on the eyelid.
Feb 05, 2015
Lash curler addict's favorite
As a MUA, I carry a wide range of lash curlers to be ready for all eye shapes. Actually, I've collected SO many lash curlers over the years from all over the world but Kevyn's curler has always been my trusty curler. It's the one I rely on when the others don't work so I'm not sure why I even HAVE the other ones in my kit. I recommend replacing your curler at least once a year. It sounds crazy but actually with any tool that moves, the hinges do wear down and become looser and this will misalign how it closes on your lashes which cause pinching.
Jan 25, 2015
Love this eyelash curler!
I'll admit, I wasn't really into curling my eyelashes. My mom did have a curling mishap where she plucked out one of her lashes through curling and it has not grown back. I figured if I was going to get one, I might as well jump for a great one. This eyelash curler fits perfectly onto the eye shape, and I personally think it's near impossible for anyone to screw up and yank out their lashes with this curler. It's gentle, leaves a beautiful curl that's there even after I wash off my eye make up. This eyelash curler has never pinched me either, which says alot because I can be very reckless with these types of contraptions! Worth the splurge, especially if you do curl your lashes just go straight for the good stuff!