Rouge G de Guerlain Jewel Lipstick Compact – Garance 06
What it is:
A shimmering, ruby-powder lipstick tucked inside a chic, Parisian case.

What it does:
Guerlain Rouge G de Guerlain Jewel Lipstick Compact contains a ruby-powder formula that interacts with the light and creates a jaw-dropping pout of perfection. At first glaze, lips will be left defined, smoothed, plumped, and hydrated.

What else you need to know:
Tucked in a compact that marries beauty with high design, with one click, you will have a luminous lipstick and mirror at your fingertips. Designed by Lorenz Baumer, the most talented jeweler from the Place Vendome in Paris, it is the ultimate accessory of mystery and seduction.

Oct 16, 2011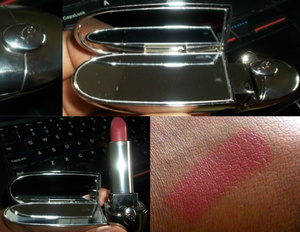 Pricey, but worth it.
I have to admit, the only thing that attracted me was the amazing design. This tube & mirror is GENIUS! The lipstick itself is nothing extraordinary. It's smooth & light, and has a very soft smell. It looks wonderful alone but even better with a little sheer gloss on top. It's a whopping $47, but if you're a packaging fiend like me, you won't mind paying the price. Even when the lipstick is finished you'll still have a cool mirror!