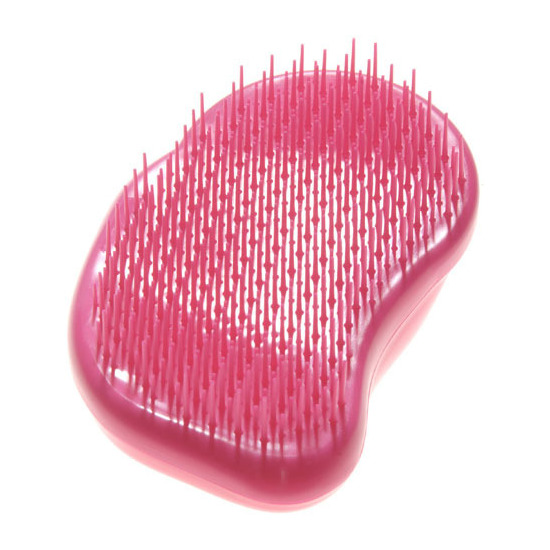 Rollover image to zoom
Reviews
Take it from a hairdresser, PERFECT
Ok, so I'm almost qualified in Hairdressing I just have a few months to go, and this product is a lifesaver. When you're doing peoples hair everything is about time, time, time!! Also you don't want to be yanking your clients hair so this is sooo good for getting tangles out quickly and pain free. I have one of those ugly fake dolls head things for practising and the hair is notoriously prone to dreadlocking and it even gets those knots out in a breeze! Deffo buy this :)
The Best Thing Ever!
I have two of these a black and purple. I have natural hair so it's the best things I've found to detangle my hair without pulling out my hair at the same time! I brought it from Sally's for $9.99 best deal ever!! Would highly recommend it! The only down fall is after a while the bristles do tend to bend, but that can also be to the thickness of my hair!
I have the travel version with case, and I love it!
it really does take out the knots and tangles, especially when my hair is wet. There's no tugging and pulling, and amazingly, this lightweight plastic tool tames my tangles with ease!
Awesome
I have a similar product and absolutely love it! As a dancer, it is perfect for a high bun because it eliminates all bumps and fly aways. It is also great for tangles, hence the name.
Love this product!
Before I bought this brush, my hair was broken and split and just awful! Since using this brush, I have fewer split ends and my hair is healthier and more manageable! It's not a great brush for when you are blowdrying and styling your hair, but to de-tangle it is great especially when you have wet hair. I would recommend this for anyone and everyone!
Wondered what the HYPE was all about...
I went out to buy this product just to see what the hype was all about. Dang, did it suck me in! I love this thing, I usually get pretty bad knots in my hair when i sleep and when I brush my hair out, its literally a dream, you can't even feel it going through you're hair! I highly recommend even for kids; It's so good.
The best thing ever!
This is the most fantastic thing ever! I'll never go back to a usual hairbrush! This brush really detangles the hair and never sticks in the hair. I usually have a little pain brushing my hair, but never with this one! I've already recommended this to all my friends!
Loving This!
Its amazing how quickly the knots are tamed on my long hair - its fine but lots of it and when it wants to tangle it just goes for it!!! Have taken this to the gym most mornings and it works a treat on my stubborn locks. I should have bought the travel version as I threw the box out and have to carry it loose and am scared of damaging its little pink bristles!!! The bristles seem to collapse when hitting a knot so they don't tear through it which leaves me with less of a headache too!
Meh. Bristles too soft.
It's good, but the bristles are so flexible and soft, it doesn't even get the tangles out! As a hair brush, it should..you know...brush hair! Not my favorite product. Especially a ten dollar brush! Meh. Xoxo~ Kenna 💕💎
Dont have this exact brand. Ut these specific type of brushes are great for colored hair after shower semi dried gets knots out easily slow brushing from bottom toward top nice fitting into palm does not pull or rip at hair