Specialty Nail Lacquer Jewel FX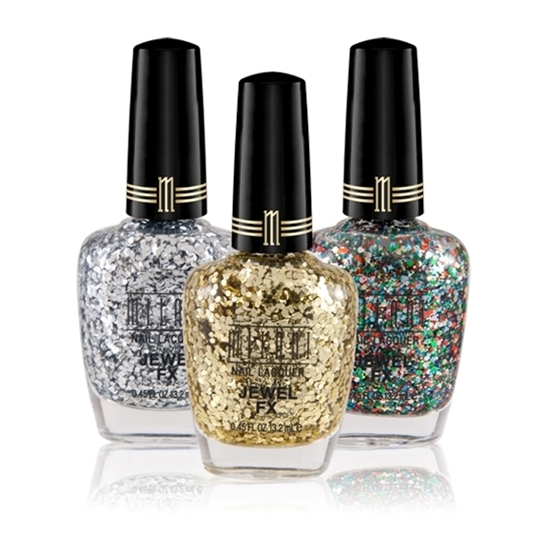 Rollover image to zoom
Reviews
Best Glitters!
I have the Silver one and LOVE LOVE LOVE it!! It is slightly difficult to work with the first time you apply it but once you figure out how it works its wonderful. Instead of swiping it on the normal polish, you kinda have to dab it on in layers(2-3) and when it is dry but still a little wet, lightly press down on it with your finger to flatten any bumps, then apply your topcoat. It is such a gorgeous shade and I get compliments every single time I wear it. Its the most unique polish I own :D
Who Doesnt Love Glitter!!!
I love love love the Fx line. The chucky glitter add the special pop and glitz to a mani. I love that there are more colors and they are very easy to come by in the stores.The glitters are somewhat difficult to get on the nail but if you play with them a lil it works.
LOVE
I have the purple on my toes right now! This nail polish is amazing, I seriously went on a hunt to every drugstore in my area to find it. It took me a few days but it was worth it. The glitters are huge and chunky and it's not one of those glitter polishes where you have to apply the entire bottle for it to look great. If you play around with the way you apply or move the glitters with a tooth pick you'll for sure get the look you want.
So amazing
I LOVE these glitter nail polishes. It's not your average glitter, it's massive chunky glitters, seriously like little gems in every bottle! As with any glitter polish, they can be a little difficult to work with and remove, but the outcome is just so gorgeous and eye-catching. I definitely want more of them. I can imagine layering different colors would just be so gorgeous!
gems gems gems!!
my first glitter nail polish is this jewel fx nail lacquer.. like the other review,my friends also asking me when i use this nail polish ;) they said it's cute and wanna buy it too.. be stand out with this glittery nail polish! pros: - good price - the glitz so adorable - eye catching so you'll be the center of peoples attention ;) cons: - hard to remove (need your patience and take some of your time to remove it) - you have to use double top coat
MUST OWN IF YOU'RE A GLITTER FREAK! :P
These Milani jewel fx polishes are amazing!! When I saw these babies displayed it was like LOVE AT FIRST SIGHT!! I own two of the polishes...gold & gems. Gems is a dupe to Deborah Lippmanns happy birthday!! So if you don't want to spend almost $20 on a polish get milani gems!!
Sexiest polish ever!
I get more compliments on my nails when I wear these polishes then ANY other color I have ever own!!!! The are awesome!!!! You get the best results when dabbing the color on your nail versus normal strokes. Verrrry difficult to get off so go with a soaking method... Or u can watch misschevious version on YouTube which works awesome : )
Blinged out!
I absolutely love this nail polish and when I found out that Milani was having 50% off PLUS free shipping on their website for cyber Monday, I had to get my hands on these babies! I adore the silver Jewel FX - can't stress that enough! When applying the nail polish on though, it's a bit difficult not gonna lie! Adding one coat of it is easy but if you want multiple coats where the whole nail is "blinged out" then PATIENCE IS KEY! You had to dab on the nail polish and wait till it become slightly dry, just enough to add on another coat, and then wait again and repeat! It also peels off easily and very quickly too, or maybe it's just me? I don't know but it bothers me! Overall, the product is great but you just have to know how to deal with it. :)
LOVE
I love love love this polish. There is not much more to say I love the colour selection! I love the sparkle. It is just amazing. I recently purchased the pink one and I am so in love.
If you missed out on Rainbow Connection from OPI this is a dupe :)
I love all glitter nail polishes but, this one especially. I really wanted Rainbow Connection from OPI's muppet collection but it sold out so fast that I couldn't get it. So, walking through walgreens I found this. Yep, it's an exact dupe and I love it. Nothing bad to say about it :) It's super pretty.