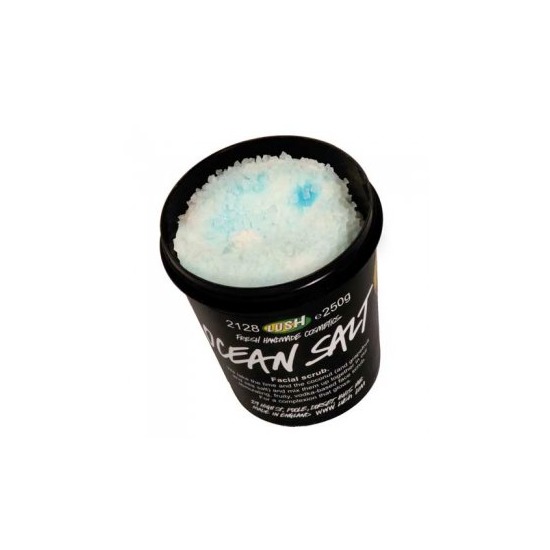 Rollover image to zoom
Reviews
This stuff is so amazing and I love using it all the time. After burning through a couple of the large containers I thought I'd start making my own using sea salt, kosher salt, grapeseed oil, vodka, and lime and grapefruit juice. Works just as well for me, and saves a significant amount of money.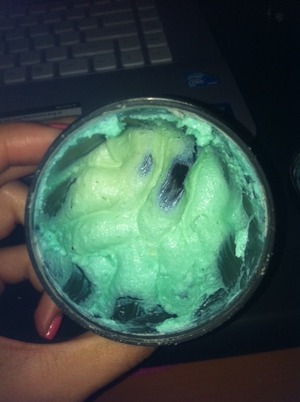 Got introduced to this early last year and have been using it ever since. I love that you can use this on your body and gentle enough to use on your face. Leaves my skin feeling clean and extremely soft. This has helped me a lot with the blackheads on my nose and chin. It has completely removed 70% of the blackheads. I use this about 2-3 times a week. For me using this everyday will irritate my skin. I love the smell of this product. It has a grapefruit/lime scent to it. Smells so fresh and very calming. Bad part about this is yes, it does expire. They have this available in two different sizes so if your planning on not using this a lot I recommend buying the 4.2oz jar. I have the 4.2oz jar and it has lasted me all year. This retails for $18 the at Lush store. It does seem a little expensive but I believe it is worth every penny. The picture below is what I have left. Sadly, whats left is already expired but remember this is the 4.2oz jar and I've had this for over a year. You don't need much unless your planning on using it all over your body. I only use this on my face and hands.
Great scrub my friends :)
This scrub,I feel like it really cleanses my face.It smells SOOO goodthe salts in there are big-ish.really heavy duty. Put a moisturizer afterwards though. It might feel like it irritates you but trust me it's the product working its magic.it is expensive and doesn't remove my black spots.Overall,I love this scrub
I always have this product on hand. It always leaves my skin polished and so soft. I use it on my face once a week and body three or two times a week. I have acne scars and this product has helped the spots lighten a lot. I wouldn't use it as a daily scrub because it may cause irritation and redness but its a great product and lasts forever.
Brilliant!
This is quite a heavy duty scrub, so if you have dry skin I would steer clear of this. If your skin is oily then it will love this! I wouldn't say this is a daily scrub, maybe one that could be used once or twice a week. It leaves your skin feeling super soft, it is worth the higher price tag - I seriously recommend this.
Great scrub - your skin will love it!
This was my first heavy-duty scrub I ever tried. I got it because of the recommendation of the sales clerk. I have dry and sensitive skin so I was worried that it might leave a rash or red spots after use. To my surprise my skin was left soft, smooth and perfect after the first time use. It's great for exfoliating and removing any dry skin on your body. The smell of this is quite strong, personally I enjoyed it but if you don't like heavy scented scrubs you might not like it. Overall its definitely worth the price, you get quite a lot of product that works great and that is worth it for me. It is amazing and works wonders, you will feel refreshed after use and not regret it. So if your haven't tried Ocean Salt from Lush yet, i highly recommend you do - its worth it!
AH-MAZINNN'
I most definitely LOVE this! It made my skin super soft and clear. I've struggled with acne, acne scars, and all that stuff. Every time I used Proactiv my face would feel like it was literally on fire, even with other products I used. I guess my face would get used to the stuff, any who a friend of mine introduced Ocean Salt to me and I won't trade it for the world. This along with the Vanishing Cream from LUSH make my face feel soft like a baby's butt lol. Sooo yes this stuff is amazing!
Great after shaving!
This scrub is awesome to use after shaving your legs! It has a nice cocktail smell and leaves your legs extra smooth right after shaving. I do think it is a bit harsh to use on your face though. My boyfriend loves using it to get dry skin out of his beard so it works well for men with facial hair since it penetrates so deep. All in all it's a great product for removing dead skin and leaving your bits silky smooth!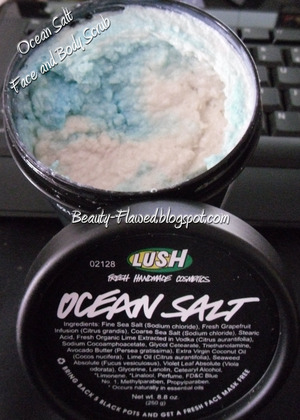 A must have
Oh Ocean Salt what did I ever do without you? This product is amazing for clearing up your skin. It knocks out breakouts and keeps them away with no problem. This has been the only product that has been able to clear up my face, keep it clear, and continually keep working. If you haven't tried it you should because its a miracle worker. The scrub leaves your face glowing and it works great to get rid of any stubborn blackheads!
Awesome!
This scrub smells AMAZING! Like a margarita, really! It also leaves my skin so smooth and has a noticeable brightening effect. I wouldn't recommend using it too often, however, and definitely be gentle because it's quite abrasive. So great for special occasions where you want your skin to look flawless.