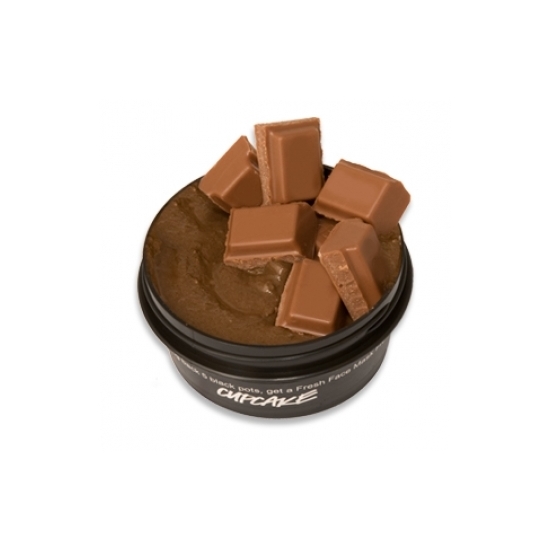 Rollover image to zoom
Reviews
Helps Turn Teenage skin to perfect skin
After a week of making my troubled skin smell like cupcake batter, my skin was almost 100% clearer. All that was left behind was some personal scarring. It dried out the toxins and zits without making my skin rough or itchy. After a week of using this, I was able to scale down to every other day and then every 2 days once it was in control. Its hard to find a vegan cupcake, so this fresh face mask more than makes up for it!!
Amazing!!
Every single time I use this face mask, my acne vanishes, my face feels soft and smells amazing. I swear by Lush, and this is definitely one of my all time favorites!
This is worth it! It leave the skin so clear and so clean... with a scent of chocolate. It is also worth the price, I have been using the product over a year and it has never fail on me. I recommend this to everyone.
Yum!
I absolutely love this fresh face mask! It smells delicious (EXACTLY like chocolate cake batter) and it works well cleansing and toning my combination to oily skin without over drying it. It leaves my face smooth and soothed and really does help bring breakouts under control. It's my favorite LUSH fresh face mask. Be sure to keep it in the fridge since there are no preservatives in it. It lasts about 3 weeks when kept chilled.
Lush is the best
I ❤️ lush! It is the best brand with all natural stuff that leaves my skin, face, body, hands, and feet smelling and feeling great! I definitely recommend this product and other lush products to everyone!!
Super-star mask!
I was indeed need for a new mask for my troubled acne skin, and the yucky excess oil! and was happen to hear amazing review of this product. I went to lush for the first time and picked up the mask of magnanimity, (which is an amazing mask also!) and of course the cup cake mask, I used it 2 times a week & happily to say it is the best mask I have ever own in a very long time! The price is inexpensive $6.95. Not really crazy about the smell. Calms down redness. gives a beautiful/soft finish look!
At first I didn't like this mask at all. I'm not sure if I got a bad pot, but I just felt like it didn't do anything for my skin. I thought that my skin not being oily was the reason for it not working. There's a reason it's targeted to those with oily skin. But I don't think you need to have highly troubled skin in order to love this face mask. I love it for a deep clean-up of the skin--the kind of clean a basic cleanser alone can't do. It does a great job in removing the excess oils from the skin while softening the surface. My skin felt nice and smooth, but mostly squeaky clean and fresh. For me it's not overly drying, but I always follow up with a moisturizer as a rule of thumb. But really, if you are fighting acne but still want to treat yourself with a nice mask, this might just be the one.
Perfect for my troubled skin!
I've tried many products that were made to control my oily skin, however they almost always fall short. This particular product is not one of them. I usually use this mask maybe once or twice a week, and my skin always feels amazing afterwards. Not only is it soft and smooth, but hours later, and there is no shine in sight! I am truly amazed by this product.
Really Effective, and fun!
My overall impression of this mask was very positive. The smell is fantastic - more perfumey than chocolatey but still very pleasant. Applying the mask was absolutely fine - I reccomend applying it to a slightly damp face to for easiest application. I found that after cleansing, the mask made my skin tingle a bit but I like to think that means it's working! Overall I noticed my skin was very smooth and a much improved looking complexion :)
Almost 30 and still getting breakouts
Lush Farmacy soap was my first taste, and 6 months later I got the cupcake mask. That was it, not another mask is needed. I retired my Queen Helene for greener pastures and a clear face.