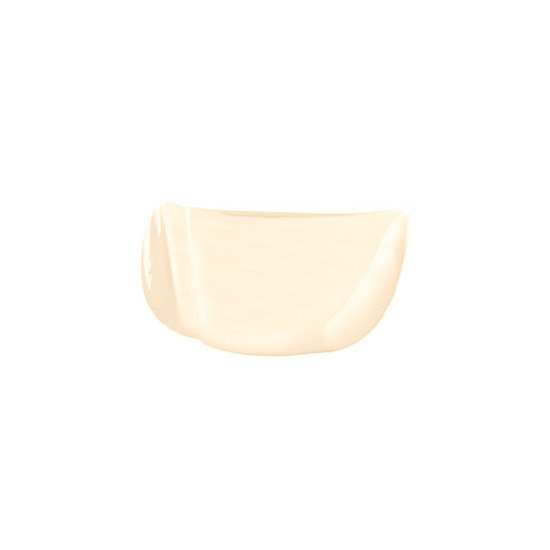 Rollover image to zoom
Reviews
May 15, 2011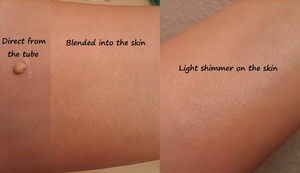 Have Glowing Skin on "No Makeup" Days!
I received a .5 fl oz sample of Laura Mercier Tinted Moisturizer SPF20 Illuminating back during the holiday online shopping I did in 2010. At first I was not happy with this product because I had hoped I could just wear it on it's own like a normal tinted moisturizer. But after going on their website and realizing this is the illuminating line, and it's formulated to attract light to the skin I quickly began to LOVE this product! - This product is very light weight, almost like a facial lotion kind of consistency. Because it is so light, you only need a pea size amount to cover your entire face. This is an illuminating product, so there is a subtle shimmer to it - and yes, if you have wrinkles or large pores the shimmers will magnify those crevices because it is attracting light to those areas. To avoid highlighting the wrong areas, do not apply this to any problem spots. I suggest using this on the smoothest areas of your face - forehead, cheekbones, nose bridge, brow bone... pretty much anywhere that has a smooth surface will be illuminated and therefore flattering your features more. - Because this product is light weight, it is also buildable. You can either wear this underneath your foundation to create a lit-from-within look or you can dab this on top of your foundation for a highlighter effect. - If you have healthy skin and don't need extra coverage but want a healthy glow, apply a thin layer of this moisturizer, then powder your skin with a setting powder or sunscreen powder. This will highlight your features while still looking natural. I like to wear this combination mostly on weekends for a break from the full-face routine during the week. I honestly recommend this product to people looking for a sheer liquid highlighter or a sheer illuminating moisturizer - you can find many creative ways to use this product, and for the retail price of $42.00 for 1.7 fl oz, this will last a long time. My little .5 fl oz sample is maybe half empty and I've been using it on/off for the past 4-5 months. My favorite products to pair with this illuminating moisturizer: ELF Studio High Definition Powder Laura Mercier Invisible Loose Setting Powder NARS Bronzing Powder in Laguna MAC MSF Natural in Medium Dark
Love
I use this just on my cheek bone area to give a glow to my skin. I love it! I have not attempted to use this over my foundation, but I was using this with a tinted moisturizer. I would buy this again. It gives me the dewy look I crave.
May 01, 2012
I loved it at first, but
When I put this tinted moisture on for the first time i loved it, it left my skin glowing, and dewy looking. But even after i set it with a primer I noticed that after just a few hours of having it on, my makeup looked like it had melted. I don't know if it was the oil in it that made it melt like that but it was terrible. Maybe it works for some but for my combination skin it did not, and it's such a bummer cause i really love how it looks and feels
I havent used a tinted moisturizer in YEARS! I ran out of face lotion this morning so I thought, better pull out my cosmetic case filled with free samples because Im bound to have something in there I can use! I decided to use this because its spf and its bright and sunny in good ol LA today. I LOVE it!!! Any product with SPF in it I will try because of my skin damage problems. I was skeptical because the last time I used a tinted moisturizer was in high school when I had frequent break outs and it didnt cover well and made my skin look greasy. This product was the perfect amount of coverage! It matched my skin perfectly and blended really well. It looked so natural while still covering my skin. In fact, I didnt even feel like I had to put foundation on after because it was the perfect amount of color and just looked so natural!
Great texture, but needs more color options
Unlike some other tinted moisturizers I've used that feel like thick globs of glorified foundation, this one glides on very smoothly. However, none of the colors look good on my skin -- perhaps if they came out with one more suitable for Asians I'd use it again.
For on the go.
I love this tinted moisturizer for when I am in a hurry and just want a light cover up. Its lightweight and covers pretty well for a tinted moisturizer. I carry the travel size with me in my person as a back up. Very good product and will purchase again.
Perfect for older skin or those who don't wear a lot of makeup
This tinted moisturiser is one of the best. Its got a beautiful texture that when applied to skin covers well but without being at all heavy. It does not sit in pores or lines so is really great for older skin (I bought this for my mum and she LOVES it). Its also perfect for those of you who like to more 'natural' look. Its great for summer as well since it is spf20.
Oct 30, 2011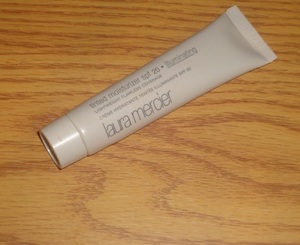 Great Tinted Moisturizer!
I have been a lover of Laura Mercier Products for a long time. One of my favorite foundations is the Silk Creme Foundation. I have been hearing for a while that the Tinted moisturizer had amazing coverage. I was so happy when I used it and discovered that it does have amazing coverage. I love the glow this gives my face. It is not to much of a glow just a very healthy looking glow. I have a great tip as well. If you want a bit more coverage just mix a bit of this with you favorite foundation! It works so well! I use this product both alone and with my foundation depending on how my skin is doing. So this can become a light/medium coverage to full when mixed with your foundation! Great versatile product!
Sep 28, 2011
I really liked this product. It's the first tinted moisturizer I've ever used and I think it's perfect. Very light weight and super easy to apply. When I'm running late this is definitely what I'm using because it gives good coverage and it's really fast! Great product :)
Sep 17, 2011
easy to blend but not for me
this goes on creamy and easy to blend. my only gripe with this product is that its not good with my oily/combination skin. It broke me out real bad and its not suited to the tropical climate where I live. It also doesn't have enough shades to match darker skin types.