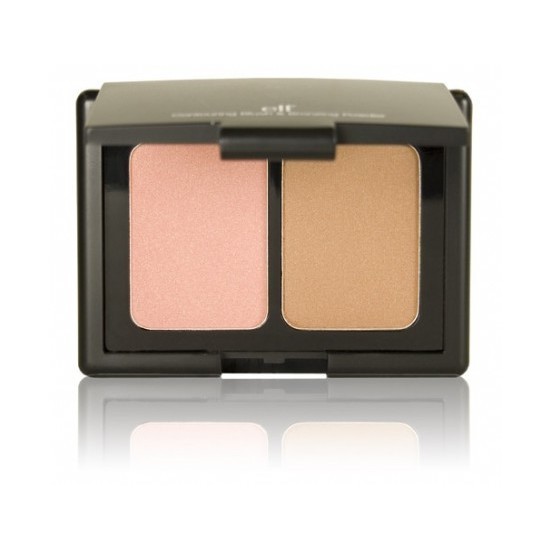 Rollover image to zoom
Reviews
Nov 16, 2012
Not Great\Not horrible
The staying power is decent ( almost whole work day) And the colors are nice I dont like shimmer on my face but I don't mind it in this blush, it doesn't show up much in thebronzer. The bronzer is not easy to blend. Iv'e had other drug store ones that work better. The blush is a lovely color but a bit shimmery. Overall it's ok. I use it but not often.
good for the price
$3 for a blush and bronzer in beautiful packaging with a decent sized mirror. You really cannot beat that. I would not say this is a dupe for anything like nar's laguna and orgasm duo because it's just not. It may look like it but it's not. The bronzer in here is nice because you can almost use it as a contour (but don't try contouring tooooo much with this) but more as a bronzer. Why? because it has shimmer in it and it's 50/50 shimmer and the powder product so you will look shimmery instead of glowy like how the laguna nars bronzer leaves your skin looking like. the blush in here I like, but I dont' find it to be peachy at all. It's a light pink with a lot of shimmer so you can pass using it as a highlight if you'd like.
Jan 19, 2012
You get what you pay for
The color pigments are great, they aren't too heavy. Only problem is that there's a lot of fall out but nothing a little dusting can't fix. Other than that it works really well.
half of this is fine
This is a good product, and it's definitely a reasonable price. However, I could live without the bronzer. I have very fair skin, so it is absolutely so dark and orangey looking. The blush is my favorite because of the color but it does seem to fade over time. It is still worth $3 in my opinion.
Dec 29, 2011
i bought this blush/bronzer duo about 4 months ago. and i absolutly LOVE it! the pigmentation is great n it was so affortable! whats not to like about that! :) both colors are georgeous by their selves and look even better mixed together! def. recommend!... one down fall... it may cause some fall out so shake the brush before applying :)
Dec 28, 2011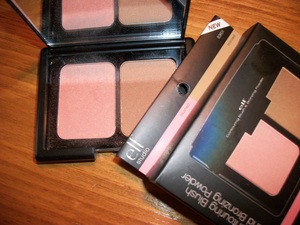 yummy
I purchased this a few months ago and I also ordered a back up last month..I absolutely love this compact..it gives me the perfect amount of warmth on my cheeks,and most elf products are SUPER cheap..I love it when good products are affordablethe blush is a great color and using the hilight to contour cheek bones looks great..Ill definately recommend this product !
Perfect combo
I love this. The blush is glowy, and the bronzer (when applied with a light hand) looks great. Both colors are flattering. I was worried because my skin is super pale. The colors are totally build able.
Nars DUPE
This is seriously almost identical to the nars laguna & orgsam duo! You can't beat it for the price.. It does have ALOT of glitter in it so you have to put it on lightly or my face look very shinny where I applied the blush.. Other then that its a pretty good product.
Apr 18, 2011
Great for the price!
*I believe I paid around 3$ at Target. *Clean packaging *The blush has a nice shimmery sheen to it. *Friend complimented on my "tan", in reality I created a faux tan look by brushing the bronzer over my eyes, cheeks, and v-line. *Be careful with the bronzer though - a little goes a long way.
Apr 06, 2011
I love my elf blushed/bronzed. Its great for carrying everywhere since they come in one packaging. I use is almost everyday. The blush is just a right touch of pink and its quite buildable. The bronze i mostly use for contouring.