Reviews
Nov 16, 2013
Love It!!!
I really love Dior cosmetics but this one is my favourite one product i really love it and specially Gris Montaigine 707 because my fav color is grey... And my new year wish would be that i have all the cosmetics of Dior.... Love it and 5 stars....
Apr 25, 2013
Very beautiful color, looks even beter in real life. It lays very well, and you don't need to put more layers than one. Dries quickly. It's my first day I wear it, and I already received a lot of good compliments. Love it!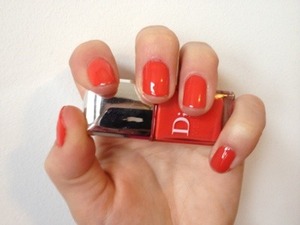 dries quick - one layer - pretty colors
I love Dior nailpolish! It only needs one layer and it dries reasonbly fast. I think the brush is perfect, because it's wider, but I can see why not everybody likes it, in the beginning I also had one or two orange fingers. But now I don't have that problem anymore. It's well worth it's money!!
The color is great and deep, there's no need for a second layer with this, but I have the same problem with this as I have with the Chanel one: the brush. It's wide and I end up having nail polish on my fingers.