Mia Skin Cleansing System - Pink
Rollover image to zoom
Reviews
Holy Grail
My gosh did this ever help clean my face! I wouldn't say it helps 100% with my acne but I use it with my Avene gel cleanser and I can definitely see the difference when I use it and when I don't use it. My skin feels smooth and tight and looks younger. Not that I have any problem with looking younger.. With one use nightly whenever I don't do my chemical peel it's heaven. You can see the difference especially after taking off your make up then using it you still see makeup residue that the clarisonic just took off for you. I'd recommend investing in this product because it really does help :)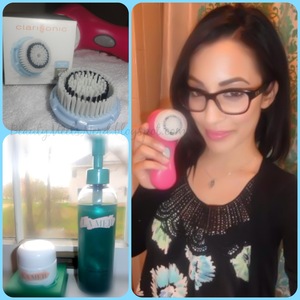 I absolutely love my Clarisonic Mia 2. I had some really bad breakouts at first which is to be expected. However, it was getting worse instead of better, and my skin actually hurt. I switched my brush head to one for "delicate" skin ,and my life hasn't been the same ever since. It's been nothing short of amazing!
No Words!
My skin has never been so clear and healthy looking. I'm sure it would be much better if I ate the right foods and drank more water. I usually use it once at night before bed but sometimes twice if I had a long day. I use Shiseido White Lucent cleanser but thinking of trying Purity. Just ensure that your brushes are clean and not overused. Also don't press hard while using it.
O.o
I have been using this for 6 months now and my skin is worse then when I started. I NEVER had acne now my checks are full of pimples, my skin has a rough texture and it is now oily. I thought this was supposed to make my skin better...(I use it once a day at night)
Love, Love, Love
I got this as a Christmas gift, its 2 weeks later and my skin has improved so much! I have combination/oily skin, always have breakouts and was very frustrated and down about my looks because of it. I noticed a difference after just the first use; smooth skin that felt clean. I would recommend this to anyone, regardless if you have skin problems or not.
Can't Imagine Life Without It!!!
I have gotten so many compliments on my skin and it's texture since I've been using the Clarisonic. I just use regular Neutrogena face wash with it once a day. After each use my skin feels CLEAN and fresh. The body attachment has worked wonders on my shoulder acne as well. Definitely worth the money!
Can't Live Life Without It
I always get clogged pores, because of some reason or another, and no matter cleanser I use or don't use, at least I know this product always gives me clean, exfoliated skin. I use the deep pore refills and now I can't go anywhere without it. It really does help cleanser sink in deep into my pores even if I'm not using active ingredients like salicylic acid. I wish they could invent some sort of travel case for this product! Whenever I travel, the button gets pressed all the time against something and the charger wires go all over place. Basically, an exceptional investment!
Cured my acne!
I had acne for 2 years and I finally got the Mia and can honestly say that it's cured my acne. The first 2 weeks of use, I didnt have one single zit on my face and it was a blessing! Unfortunately, a few spots came back here and there but I had not been consistent with the Clarisonic every morning and night. Now I've switched my cleanser and other skincare products and my skin is back in tip-top shape. Great investment for all types of skin! It really does leave your skin feeling mighty clean! BUYBUYBUYBUY :)
Best investment!
I've been using the MIA for about 5 weeks now (religiously, every night) and my skin looks healthier than before!! I broke out the first two weeks but it's only because all the dirt and residue is lifting under the skin! I love love love this!! I recommend it to EVERYONE!
Feels good, but not incredible
I used my Mia religiously for a year, then stopped. I just use a scrub every other day. My skin is no different. It's nice, but not really worth it.