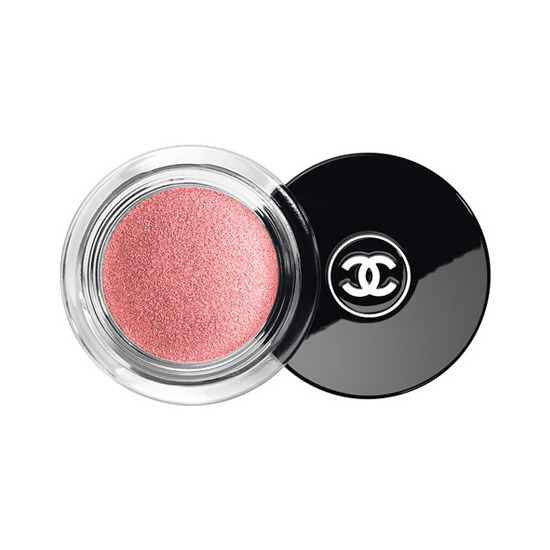 Rollover image to zoom
Reviews
These are a goldmine. I know, 36 dollars for one of those pots is pretty steep. I've owned mine since the release and I still have not made a dent into mine, and I use them everyday. I bought Illusoire, Epatant, Mirifique, Emerveille, and Ebloui. I didn't buy Fantasme at the time because I didn't think I would use it as much, and boy am I kicking myself right now. Fantasme is still sold out nationwide, and that is really crappy. You DO want to make sure to NOT leave the pot open as you work on your eyes, because the contents will dry and shrink. So please, please, PLEASE make sure you are closing the pots nice and tight. You can apply with fingers, quickshadow brush, and I use a combination of both. Unlike other cream shadows, these are nice because you can blend right away with your regular shadows. You don't have a time limit like the MUFE colors, and they give LONG lasting shimmer and color all day. They are buildable, and can be used as liners. If your looking to treat yourself, I say you induldge in Chanel and buy these little miracle workers.
I was really interested in these shadows - they're not a powder or a cream, but a gel - it takes a little practice to get used to the texture and figure out the best way to work with the product. I find this works well with a flat stiff brush - I use my MAC 239 to sweep the color all over my lid. The salesgirl told me that she uses multiple colors together on her eye. I haven't tried blending them together, but they do blend beautifully with powder shadows, over a primer. These have a lot of shimmer. While I am sometimes turned off by that, the shimmer is sheer and iridescent - really beautiful when it catches the light. You really don't need a lot of product for each use - they go on smooth and can be buffed out easily. They are meant to build, so they can be a sheer wash of color or a strong statement. I have the red color - Ebloui - and, with a light layer, can easily pass for a simple day look or be used for a dramatic eye. At $36 they are pricey, but there's a lot of product in there - .14 oz (about as much as a MAC Fluidline pot). I want more, but the price is holding me off.
Gorgeous, gorgeous product!
I have been so blown away by these cream eyeshadows. I tried my Aunt's a while back and upon trying it, knew I needed my own. I picked up Fantasme and it is such a lovely shade. I lovely popping it over eyeshadow for a beautiful glitter effect. I also love wetting my brush and applying it all over the lid for an opaque, reflective foil type effect. It truly is a lovely product. They feel amazing, last forever, and the glitters in them are divine. Nothing compares.
SHADES: VISION, FANTASME, EBOULI
I was instantly taken with these shadows, the colours and shimmery textures are exquisite The cream to shadow formula is long wearing, I find for a heavier application the product is easier applied with my finger tips which is no big deal (I just take a brush and blend out the edges) I would also make sure the caps are closed tightly, since they are a cream to powder formula they will dry out faster if left not properly sealed. All in all, LOVE IT!
Mar 11, 2013
Favorite for shimmery effect
This eyeshadow is silicone-based which can throw some people off. Once you realize that it is NOT the buttery smooth type of cream shadows that are out there then it's easier to deal with. Use an eyeshadow primer the apply a small amount of the Illusion D' Ombre on the back of your hand. Close the container tight. Then apply the shadow with a brush or fingertips using a series of small amounts. Layering is key. You can use this color (Fantasme) over any shadow to make it more shimmery. It is white in the container but opaque on the skin. You can pat it onto the cheekbones for highlight. You can also use the brush that it comes with to draw a line around the eye, even blending it into an eyeliner to give it some sparkle. LOVE THIS.
Love it!
I'm on my 2nd pot of the darkest color-Mirifique-which is an almost black-more of a dark charcoal black. I have to use a primer under it or it "poof"-disappears and has too much fall out. I also have found that using one of that Tattoo Eyeshadows in Taupe underneath gives it a nice sticky base-but you have to work fast! I use it to overline my eyeliner, and then I just use a brush to apply to my lid. It gives just enough sparkle without too much glitter.
Lovely (mostly)!
I have Epatant and Mirifique and i have recently bought a bright gold one, which have recently come out in the UK. The gold is lovely, however the second time I opened the pot the whole eyeshadow fell out, still in its perfect round shape and I have to squidge it back in the pot. The Epatant one has shrunk and falls out too. I don;t know why. I don;t use them all the time and I don't leave the lid undone. But the texture and colours are beautiful and they are very versatile. as others have said you can use them for liner or shadow and they last well.
im in love with all of them !!!!! they are great as a base or by it self , very long wear !i usaly use my finger insted of a brush , gives me more control of the produckt , i love blending them together ,
Fab!
Ultra rich, ultra luxurious eye shadows. I have three out of the six. The texture of these shadows are like nothing else I own. Although expensive, they are worth it me becuase the colour pay-off is intense without any primer or cream base colour needed. If any more come out in this range I'll be purchasing them as they worth the investment and can be used in a variety of looks.
luxury
i personally own 83 illusoire which is a mauve/purple/taupe color. I have worn this with just mac's cork and tete a tint in the crease and got so many compliments. i also wear it with some black tied and carbon and it looks like a million bucks! i don't care for the brush that comes with it. it makes the product ball up and i end up wasting product rather than getting it on my eye. i use a spatula or a small concealer brush to get product out, i also apply with a shader or concealer brush, fingers work well too. i blend with mac 217 if needed. i recently just purchased 85 mirifique thinking that i could make an excellent new years look but it seemed trickier to work with because it is a dark color. i wanted to return it but now i am having second thoughts. i could probably use it as a base for sugarpill's stella loose shadow. i have worn this shadow all day long, a little goes a long way and if you have oily lids like me, i would put an eyeshadow base. i use nars eyeshadow base and it works really well.