Magix Face Perfector SPF 20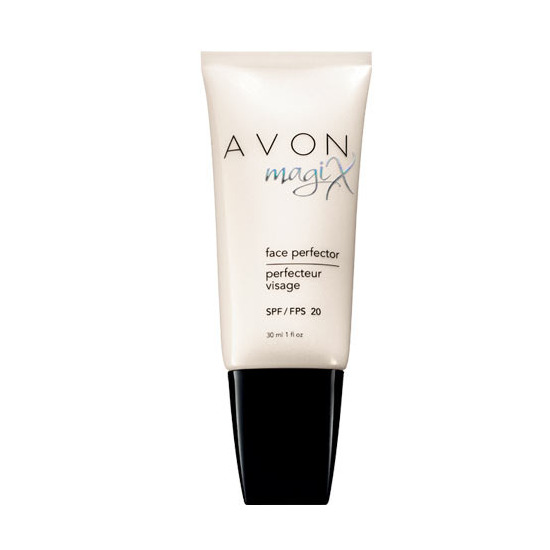 Rollover image to zoom
Reviews
Pore Minimizer
I have never been a fan of foundation or concealer, but to make my pores look smaller I had to find something and this product is it. Not only does it minmize my pores it also controls shine and covers any imperfections on your skin. I bought a tube in Dec of last year and I still have half the tube left. This product is amazing!
Average
This product was ok. It did a good job with covering my blemishes, and gave my face a flawless and matte look, however, it did dry out my skin a lot. I've tried wearing a moisturizer before I applied this, and it still dried out my skin. Even though it made my skin look good, my face felt really dry and rough. Also, it has a weird smell.
Fave face product
I use this primer everyday, with or without anything else. It prevents shine all day long and has a great SPF. The consistency is cream to powder and the price can't be beat. It's a staple!
Pretty Decent
This face perfector for Avon is average. You can use this product on any skintone and its good for all types of skin as well. What I like about this perfector is that it leaves a matted look which is my favorite. The Illuminating Face Perfector of course leaves a nice little glow. You should apply it alone or under your foundation. Would I buy it again? Sure, why not? For $10.00 you cannot beat it. I am not saying that it works wonders but it works and great for your wallet.
I am a new AVON rep. I've been using Avon products since I was a little girl. A family friend was an "Avon lady". As others have noted, this primer is a great go-to for everyday wear. I really love Avon products because they are practical, easy to use, and of course BEAUTIFUL! Buy makeup and much more at my webstore: http://www.yourAVON.com/EmilyMeza
Its alright...
This primer is average. I don't use it anymore as i didn't see it as beneficial. Its not a great product. It feels odd on the skin and it doesn't give my makeup better staying power. Although it does have a good spf, i wouldn't use it again.
HAAATE this primer. I used this maybe twice and then threw it away because it just didn't work. It felt weird on my skin, waxy and heavy. When I put my makeup over it, it felt as if my face had not been washed in days. My skin felt really clogged and dirty. I wouldn't recommend this product because I know there are better options out there.
It works if you use it correctly!
Before: I have changed my moisturizer twice just to see if that was what was causing the problem, but I still feel greasy after I layer this on my skin and it's supposed to be a mattifier [maybe mine is defective]. My makeup does stay put however but the oxidization is pretty gruesome. I dunno, back to the search board! Updated: my moisturizer was oil based so when I applied this I only became more oily. my other moisturizer was not oil based, but I was using too much of the perfector when I only needed a little dot of it (yup a little goes a very long way). now because my skin is already so oily I used my vanishing cream and use little dots of this product and then layer on my foundation and let me tell you my face is flawless for a very long time.
Good for any skin tone. Good for oily and extra oily skin. Great for under any foundation and or concealer. Leaves face matted and is an spf just incase yr foundation isnt. Desent price.Used this ALOT when I was unable to use my fondation. Down side: if handled too much it starts to flake. You gotta be qick and aply spareingly. Haveing to wait for it to come in. I recomend keeping 2 at a time so that you have pleanty incase yr order is runing late.
it didn't work for me
Reading at the reviews I started to wonder if I got a deffective one? I hate the smell, is like cooking oil ugh, it causes my foundation to flake, and break me out terribly...