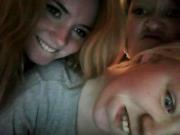 Comments
Emmie D.
0 Comments
0 Products Tagged
About Me
hi im emmie
i think its safe to say im obsessed with makeup and beauty! i come from an extremely artistic and creative family so the art and design of makeup is something i completely get. im not sure if i would like to pursue makeup as a career (though that would be awsome!) as my number one passion is music, i love it as a hobby....an extreme hobby!
ANY WHOOOO... if you are going to take the time to follow me its only fair if i tell you more about me as a person...
- i'd rather live in another decade (60s or 80s preferably)
- i love punk and rock music (at the same time as loving country music)
- i LOVE glitter
- im a serious dog lover
- im known as "the sarcastic/ironic one" by most
- im all about equality - never treating others like they're better or worse than myself..LOVE AND POSITIVITY FOR THE WIN!
- im the kind of person you find at concerts you heads strait for the spot closest to the amps as possible and head-bangs her head to the bass line ;)
- i like to argue ... *cough cough* oh sorry i mean "debating/creative discussions"
- i have a bit of a huge fetish for stamps and snow globes *sniffles and pushes her nerd glasses up her nose*
i think thats enough to know for now...i dont want to look vein of anything ..ha..ha.ha. *shifty eyes*
xoxo
| | |
| --- | --- |
| Eye Color: | Blue |
| Complexion: | Fair |
| Undertone: | Warm |
| Skin Type: | Combination |
| Hair Color: | Blonde |
| Hair Texture: | Fine |
| Birthday: | November 26 |
| Age: | 19 |