The RGB Nail Color Collection

New for Summer!
RGB Must-Haves!
Why We Love RGB
We look at nails as an accessory, like handbags or jewelry. – RGB founder Gina Carney
It's no secret that we're nails-obsessed around here, and we love that RGB Cosmetics makes planet-friendly, healthy nail products. All polishes in the line are "five free," meaning they're made without five of the most common nail polish toxins and irritants (formaldehyde, toulene, DBP, formaldehyde resin, and camphor), and the gentle, soy-based remover pads are acetone-free. Also, everything is cruelty-free and made in the United States! But the thing that really sets RGB apart is a sophisticated aesthetic. From the clean lines of the product packaging to the expertly edited range of modern shades, founder Gina Carney has found the sweet spot between "green" and luxe. RGB's collaboration with celeb nail artist Jenna Hipp, HIPPxRGB—a collection of sheer pinks and opaque and sheer nudes that work on skin tones from dark to light—quickly gained a cult following and helped spark a neutral nails obsession among the fashion set. The layerable shades offer a modern take on the French for an understated look that elevates any outfit. We're hoarding all of the colors in our personal collections!

RGB's Gina Carney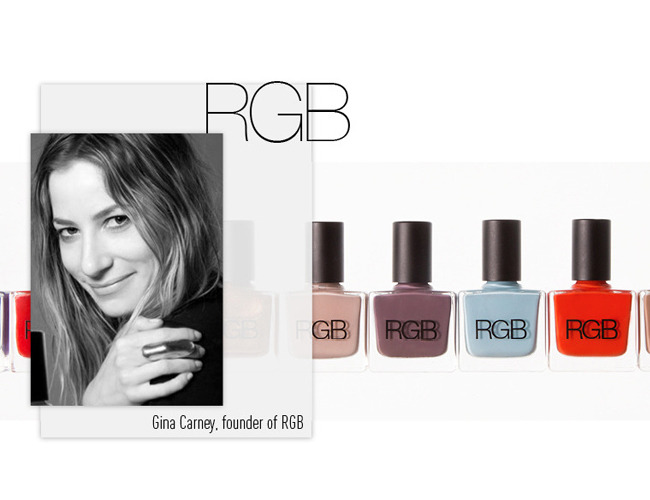 No one does neutrals quite like RGB, the eco nail care and color line that has stolen the spotlight, along with the hearts of celebrities, major publications, and nail artists. And, of course, us! Which is why we're so excited to welcome RGB to the Beautylish Boutiques. Though her background was in fashion, founder Gina Carney saw some gaps in the nail product market that needed to be filled. She wanted healthier, carcinogen-free polish that felt upscale rather than crunchy, and also noticed a need for "nude" nail colors that would work on dark skin, light skin, and everything in between. So Carney created her own line RGB, launching with collection Ten—ten iconic colors with a modern edge—in 2009. Since then, RGB has blown up. To tackle the neutrals for all skin tones, Carney collaborated with green celeb manicurist Jenna Hipp on a line called Hipp x RGB. The 2011 collection started a neutral nail craze, and quickly became one of the most sought-after nail polish lines. We recently sat down for a chat with Carney to find out how she started such a huge nail movement and why it's important to buy green.