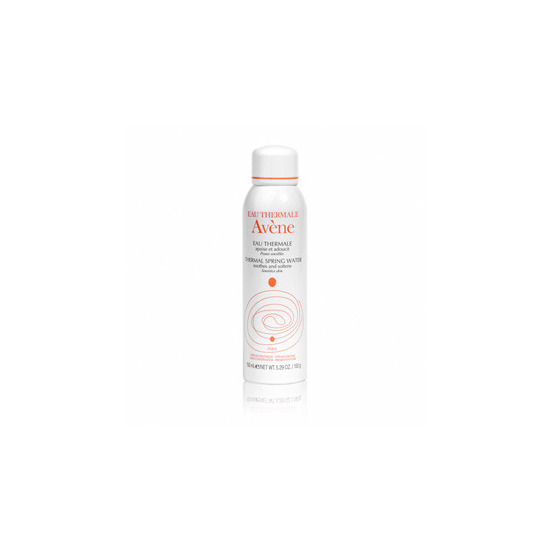 Rollover image to zoom
Reviews
Soothing
This would seem like a very frivolous product (water in a can...) but it does relieve my skin when irritated, particularly around my eyes. It sprays a very fine mist which feels good on itchy, sun/wind burned, overheated, or dry skin. I sprayed some on my face just now, let it dry, and there is a slight reduction in redness along with a soothed feeling. My eye area in particular feels much better. To the touch, my skin is slightly smoother.
Not good at all for me.
I bought this as it was on sale a few months back, and I was attracted to the caption "relieve sensitive skin.". I have rather sensitive skin, and when I used this product, it made my skin turn red. My face even stung a little. I don't know if it has happened to anyone, but I'm not a fan of Avene now. I'm rather disappointed with this spray. I ended up using it on my body instead when the weather gets warm. Waste of money for me.
REFRESH YOUR SKIN
i bought this on buy one get one in big size. i think this product really helps you to refresh your dull skin. especially when your face is tired this product will refresh your skin face. even before i go to bed i usually use this product first before applying night cream.
Multi-purpose
I love using this product on summer or when I'm going to the beach to calm down my skin, it's really refreshing. I also use it as a primer before I put my make up on, I think it prepares my skin and makes it look healthier. I have also used this as a setting spray.. but don't think it helps a lot for that purpose.
Not bad!
I purchased this on sale!! It lasted me sooo long! it did feel good and refreshing but i feel there are better ones out there :) Definetly a good product though! Not sure why so over priced
I Love This Spray
This product is definitely worth investing in. The mist is soothing and refreshing. In the summer or during vacation, it cools my face instantly. Avene is a line of cosmetics specifically for sensitive skin and it works wonders. It reduces redness on contact. I also use it to set my makeup.