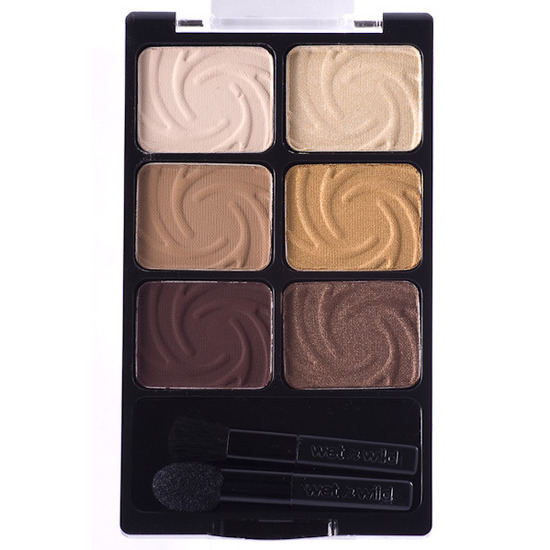 Rollover image to zoom
Reviews

SOOOOOOOOO good!!
I love these pallet I got mine from a website where they still have it! And I wished I would have picked up another one just incase they run out of it! because my favorite eyeshadow is the white/ nudish colour. The matt colours are really matt! I don't feel like they are too powdery, okey there might be some fall out but not to the extreme, where Im botherd by it! I wish wet n wild could keep selling these once and maybe make more matt shades because the colour icon pallets there is like 95 percent shimery and no matt ones! A big plus is the small price! I paid 80kr (11 dolars) And I know in the us they might be like 5 or 6 dollars. and even tough I paid about twice the amount I think it's still the best natural pallet and it's a good dupe for the naked pallet by urban decay. Or at least it's not the same shades but it take upp less room and is good for travel( and you still can do various looks whit it)! A big must have for every make up geek! If I may say so ...

Boy was I shocked! This stuff is GREAT!!!
I bought this last week and it blew me away! I used it along with a couple of colors from my Too Faced Natural Eye Kit and Wet N Wild's quality was just as good as Too Faced! The colors blended so smoothly and are very pigmented. I use UD Primer Potion and had no creasing or fading after 5 hours in very humid weather.
I will definately buy the other color collections. I see no need to purchase a designer or Dept. Store brand just to have it when there is quality like this available for $4 bucks!
Amazing shadows for the price
I have the Vanity and Lust palette. The Vanity palette has become one of my staple items in my makeup collection because it is extremely versatile. I love the matte shades specially for highlighting and blending. The other 3 shimmery shades are also great to create neutral looks. The shadows are very smooth and pigmented. One of the best palettes you can find in drugstores!

love the variety!
i love these palettes, the colors are beyond pigmented, and you get a variety of matte and shimmer colors! some of the colors are a little hard to blend, but nothing a good blending brush and the right technique cant fix. my favorite are the lust and vanity palettes :)

SUPER PIGMENTED!
I absolutely love Wet N Wild Eyeshadows!! Best thing I love about it is that they are super pigmented! They are even better than some high end eyeshadows (i.e. Urban Decay) They are very inexpensive! They come in multiple colors! A little definitely goes a long way. On the left side holds matte eyeshadows and on the right side holds shimmery eyeshadows. Great for everyday, going out, parties, etc!

Bang for your buck!
These eyeshadows are definetly making a new name for wet n wild. It seems like the scientist finally got the formula right! The color pays off, blendability(if thats a word), and non creasing action make these shadows compete with shadows four times its worth.

Violet likes DM S.
Feb 15, 2012
High quality look for less
I just bought the Vanity palette and am so mad at myself for not buying it sooner. It is Amazing! The colors are so pigmented and blend so perfectly. They're on clearance at Target btw for less than $3. Wearing it right now and I am very happy with it.
---