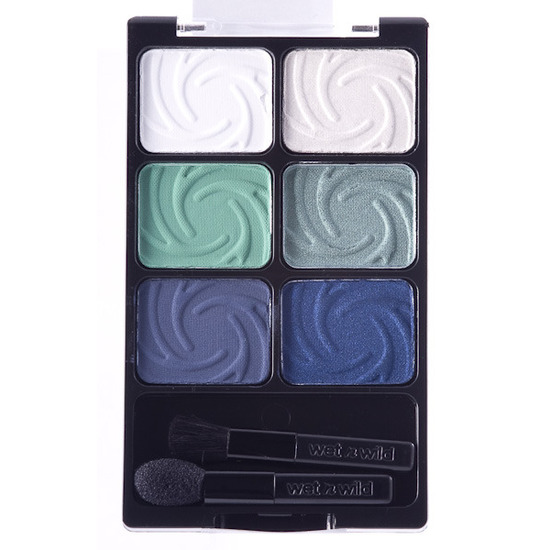 Rollover image to zoom
Reviews

First of all, I have to say that the greenish/seafoam color in this palette is SOO unique and gorgeous! This palette is a fantastic value. I forget what I paid for it, but it definitely was NOT over $4.99. You get six eyeshadows, and three of them are matte, and three of them are shimmery. You get a matte and a shimmer of that seafoam green color, white, and a deep blue. And the matte shadows are not at all chalky or hard. Color pay off is also great. Especially good when used with a primer!

It's ok if you like the colors.
Wet n' Wild's Pride Palette is one of the recently discontinued, but still available Color Icon 6 pan palettes. Pride contains three shades, a white, a green-turquoise, and a navy, in both matte and shimmer finishes. I'm unsure of the exact retail price, but I believe it goes for about $3.50-4. I won this palette as a giveaway prize from http://delabelle-k.blogspot.com/. Wet n' Wild claims that these shadows are highly pigmented and are "all day crease proof". These shadows were made in China. Wet n' Wild does not test on animals. Like all Color Icon palettes, Pride comes in a cheap, flimsy black palette with a clear, flip up lid. A small brush and sponge tip applicator were included. I tossed the brush right away, but the sponge tip is ok for packing color on. Despite being cheaply packaged, I like the lay out of this palette. The shadows are small squares with spiral-y design pressed onto them them. The shadows come in two vertical rows, the left, being matte, the right being the corresponding shimmery shades. I'm not going to review each shadow individually, but I will review and compare the matte and shimmer formulations. Swatches of all the shadows can be seen here. The matte shades in Pride aren't up to par with my expectations from Wet n' Wild shadows. By no means are they poor shadows, compared to it's drugstore competitors, these shadows are still top notch. However, they don't have the same softness as other Wet n' Wild shadows. They have a much harder, stiffer texture. They're decently pigmented, but no exceptionally so. They go on a little bit patchy, and you have to pat the color on to get true to pan pay off. I'll reiterate that they're good shadows, just not what I expect from Wet n' Wild. The shimmer shadows vary in texture. The shimmery white shade is no where near as pigmented as it's matte counterpart. It also has a chunkier texture. It's the weak link in the Pride palette, in my opinion. The navy and turquoise shades make up for it with their soft, smooth texture and rich pigmentation. They can cause a little fall out though. All six eyeshadows stand up to Wet n' Wild's all-day, crease free promise. They don't fade significantly. Despite not having the same textures and color pay off as the shadows in the 3 and 8 pan Color Icon palettes, the quality is nearly just as good. I'm not a big fan of Pride's color selection. There is so little variation between the matte and shimmer shades. And there isn't really much variety in the looks you can create with white, turquoise, and navy. I'd appreciate this palette more if Wet n' Wild gave more variation in color. Aside from lacking variety, and the flimsy packaging, Pride is a good drugstore palette if you like bright, but deep colors. The shadows aren't quite as epic as the rest of Wet n' Wild's Color Icon line, but that's probably why they got discontinued, so Wet n' Wild can reformulate, and when they do, the shadows will be fantastic. That being said, I wouldn't repurchase Pride. The colors just aren't for me, and I rarely reach for it. If you can still find this palette at your drugstore, and the colors appeal to you, snatch it before its too late, but otherwise, skip it.

I love this eyeshadow palette it's less than $5.00 and the colors are gorgeous! The colors are super pigmented and I love how it has a matte side and a shimmery side. You can do so many different looks with this little guy.
Wet & Wild products are super afforable and very good quality :)

YES
now this is a cheap brand that i love! its not to powdery! i have purchases lipgloss and many other shadows and liners from then and i am and soooo content with everything that i have bought from then

No Longer Available D.
Oct 21, 2011
Amazing Palette!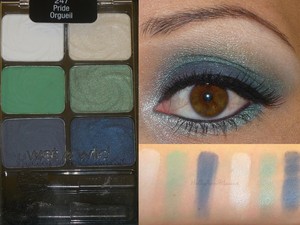 The colors in the Pride palette are so pretty and super pigmented! I love blues and greens! Wet n Wild seriously is one of the best drugstore eyeshadows out there. These palettes are great for beginners and even the pros out there! They last all day when you use a great primer. I love that these palettes come with matte & shimmery shades. You can create numerous looks with just this one palette from day to night! Yes, the packaging isn't all that great, but the quality of the shadows do make up for it!

Some amazing colors that are great quality for the price!
I'd been reading about these for awhile before I actually bought these. Way to go WnW for stepping up your game big time!! These are totally legit eyeshadows! The are smooth and bold and have amazing color payoff! And best of all, they come at such an affordable price! These eye shadows are deffienetly my new drugstore obsession! It takes a lot to not just grab all of them in one shot. Now if only WnW would step up the rest of their line.

Kindof hit and miss..
i have three of these... I have Pride (my favorite), Lust (2nd favorite) and finally Greed my least favorite...greed in my opinion doesnt have good pigmentation compared to what im used to from WNW..i really love pride though...i just think its hit and miss... I REALLY love the 8-pan Pallettes though! they are amazing<3
---