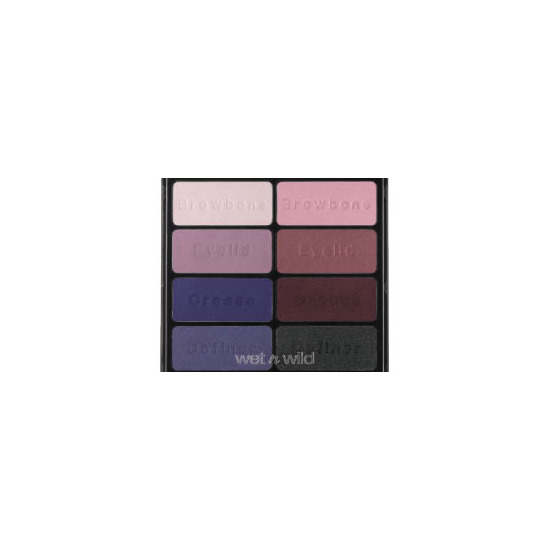 Rollover image to zoom
Reviews

Have them all
LOVE THEM!!!! They are full of pigment and they have step by step if your not savvy with applying eyeshadows and you can mix and match colors for different looks And the price point are amazing for the great pigmentation you get.. LoVe ThEm!

Perfect!
I love Wet 'n' Wild eye shadows! They are pigmented, bold, and so pretty! And for the price of $5 is amazing! I would definitely recommend these to anyone looking for super pigmented shadows!

Purple Power!
The colors are fun and bright, from a soft satin pink to a light shimmering indigo. The left side has the least shimmer for a fun and flirty day style. The browbone white has a touch of iridescent pink. The light pink eyelid shade shows reflections of gold in the light. The crease color is a rich satin plum, The definer is a light shimmering indigo. The right side is packed with shimmer for a bold night look. The pink browbone shade has a super rich glowing pigmentation. The eyelid is a soft berry with shimmers of gold. The Crease color is deceptive in the pan. It is a dark brown/black that is packed with purple shimmer. The definer is a soft charcoal with shimmers of silver that sometimes appear blue.

Great product for all skin tones
I would recommend this product for all skin tones because if you have darker skin you can use the darker shades and if lighter the shades on the top. All of the colors are very pigmented and nice, one of my only issues with this product is that the last to colors on the left are VERY similar and I can't see a difference on the eyes. My favorite shade(s) are the second an third color to the right, they look so beautiful together and are both beautiful on their own.
---