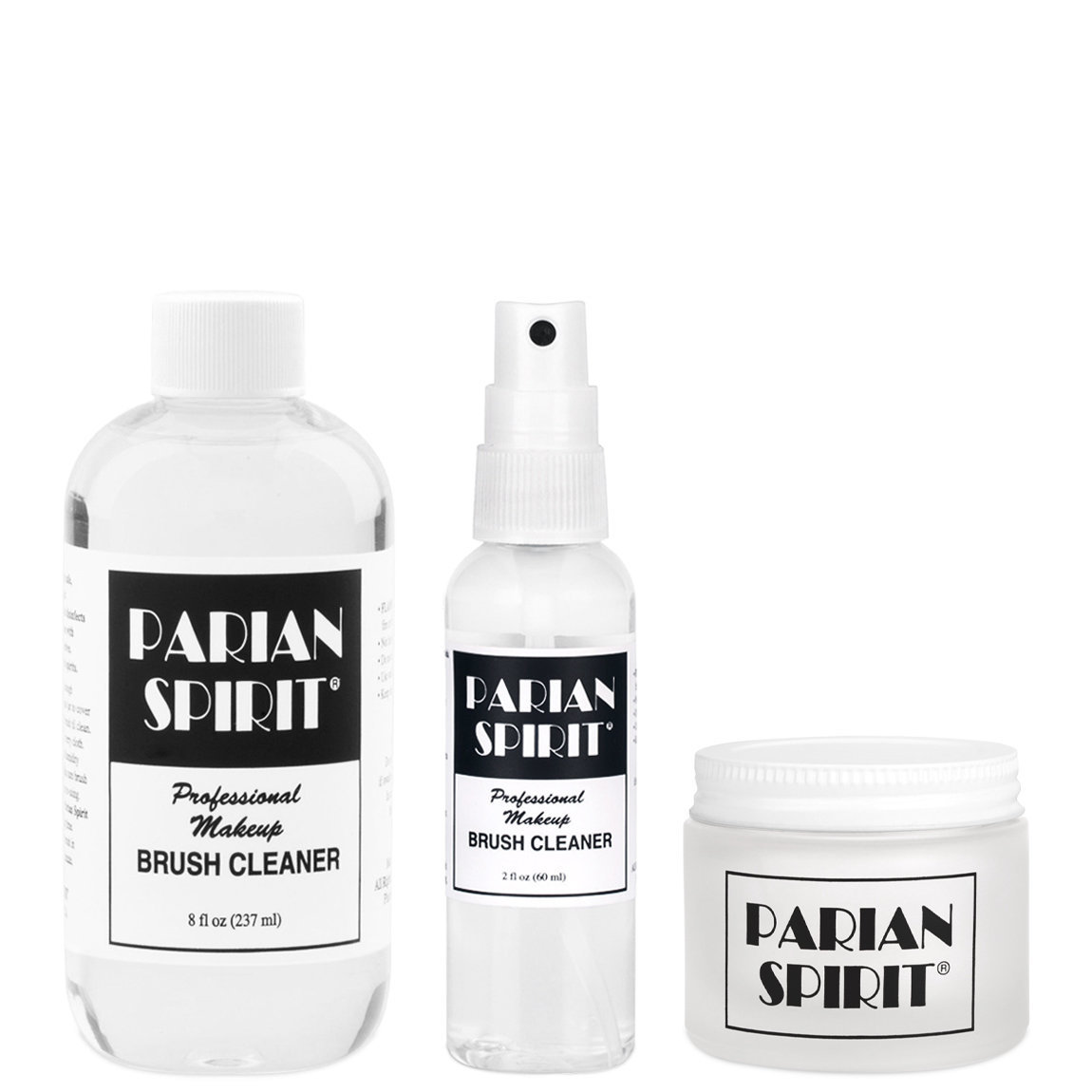 Product Description

The Parian Spirit Brush Cleaning System contains everything you need to clean your brushes under any circumstance. The 2 oz. spray bottle is ideal for moment-to-moment cleaning while in the middle of makeup application and the perfect size for travel. The Parian Spirit Jar allows you to keep your brush cleaner handy without carrying a large bottle and the 8 oz. bottle gives you the ability to refill both. Use in combination or grab the one you need in any circumstance.

Parian Spirit is made from citrus spirits and food grade solvents, giving it powerful cleaning properties designed to gently clean, condition and disinfect fine brush hair. This cleaner dissolves all types of makeup products including powder, liquids, wax-based products and adhesives. It conditions brushes as it cleans and is quick-drying. The orange scent comes from the natural orange oils used in the formula. It is non-toxic.

This system contains:

2 oz Parian Spirit Brush Cleaner Spray
8 oz Parian Spirit Brush Cleaner
Parian Spirit Jar with plastic mesh liner

In This Set

Ingredients

Shipping & Returns

Free Shipping

Beautylish offers free shipping to the U.S. on all orders $35 and up. For all other orders, we offer $5 flat rate shipping.

This product ships via ground shipping. Orders containing this product will take longer to arrive. At this time, we are unable to ship this item to Alaska and Hawaii, or to P.O. boxes or APO/FPO addresses.

Satisfaction Guaranteed

If you are less than completely satisfied with your purchase, you may return your order within 60 days (from the delivery date) for a full refund. We'll cover the cost of return shipping within the U.S..

World-Class Customer Care

Beautylish's team of makeup artists and beauty experts are here to help. If you need assistance in anything from color matching to your perfect skin care regimen, we're here to help.

Phone: 1-877-992-5474

Email: service@beautylish.com

Reviews

Why have I never used this before?!

This brush cleaner is FABULOUS! I don't have to work the hairs as hard to get the color out; the formula itself seems to dissolve makeup -even gel liner, lipstick and glue- without being harsh on your brush. The orange oil gives a pleasant smell and it seems to condition them, leaving my brushes looking shiny and new! I spray a bit on a towel and polish the entire brush- it makes them look so fresh! The Little jar also helps reduce waste, and the mesh liner helps get the color out. I can't believe how little I used!

One warning- this is an oil based cleanser, so the brushes feel dry before they truly are.

A Godsend

First of all, the shipping is super duper fast. I ordered it last Tuesday and got it on Thursday. That is like, unheard of for me. I also got a super cute letter from Beautylish. I wish I knew who it was from! I love their handwriting. Now after that, the product itself is just incredible. I've never had to bother with spot cleaning my brushes, so I have nothing to compare it to. But now I have jobs coming and reasons to spot clean. So something like this was a necessity. But I have some words of advice to those of you buying it. 1. When using the jar, you don't have to refill the parian once it gets dirty. It still works. I wasted a bit of product doing that, lol. What's nice is that when it evaporates you can see all of the pigment that fell to the bottom. Make sure you wipe it out before you pore more in. 2. Don't go spray happy. I guess I'm just a product waster, haha. One to three sprays on the big face brushes at a time is good, not eight or something, haha. You will have to have a rather large towel to wipe them all off, but it's okay. 3. Jar for little brushes, spray for big fluffy brushes.

That's pretty much it, but I know I would have liked to be forewarned. :) The stuff works really well. The reason I left off half a star is because the smell is really strong. And I'm probably the only one who thinks so, but I swear the after smell is quite "squashy". And I really hate the way squash smells (and tastes). But that's okay, cause the stuff is incredible.

Maelicious M.

Feb 22, 2013

Where has this been all my life!

OK, like everyone on here I am love with makeup and making new looks daily. However, I hate washing my brushes. I will throw them one by one in my "to clean" drawer and wait until I have none left forcing me to go and wash them. For the past 4 years, (the beginning of my obsession) I have used the Sephora brand spray brush cleaner and Mac's brush cleaner. I can honestly say the the highlight of my day is not standing over my sink washing brushes out in my hand and waiting for them to dry overnight. I was a bit skeptical about this product thinking it would be the same but since I was running out of my mac I figured why not? OMG! I am in love with this product! I sat down at my desk and while listening to music cleaned a drawer of brushes in less than 10 min. The smell is also wonderful. It took no work at all and even the dirtiest of brushes are clean without a second though. LOVE LOVE LOVE. Can I say this enough?! This is my new favorite thing and I am recommending it to everyone!

Best Smelling product ever (at a pretty good price)

First, I just want to say that Beautylish's pricing, packaging and shipping was phe-nom-e-nal. I got a cute little hand written note included and it was super fast and I can honestly say that moving forward if Beautylish carries it, you can bet I won't be ordering it from any other site. Now, onto the product, I got this today at work and I just happened to have a brush in my bag that I couldn't wait to try it on. I was massively impressed. I took a before picture and as I was cleaning my brush I thought, "Ehhh, I mean, it get's it clean but not THAT clean." Then I took an after picture and compared the two and I was floored. The "cheap" brush that floats around in my makeup bag, has never been washed and is used exclusively for applying blush on the go was restored to near mint condition in about 45-seconds. To seal the deal, upon entering my office moments later my coworker exclaimed "Are you eating an orange? Whatever you just sprayed smells delicious." I advised him that, no, I was not eating an orange I was trying out my new brush cleaner and he refused to believe me; going so far as to look in my trashcan for orange peels. I couldn't be more pleased, honestly. I can't wait to try it on all my brushes at home. Don't waste your money on anything from a brick and mortar store. Just order this from beautylish and be done with it!

PS I uploaded my before and after photo but it's not linking to this review. I'll try and do it directly to my photos so everyone can share in the awesomeness that is clean brushes.

Christina T.

Mar 28, 2013

Can't imagine using anything else!

I hated cleaning my brushes. It was a long process. I knew I wasn't cleaning them as often as I should have, but Parian Spirit Brush Cleaning System has changed that. It is amazing and quite simple now for me to clean my brushes. Before I received the system in the mail, I had just "cleaned" my brushes. So, being eager to clean them, I went ahead and tested it on a few of my "clean" brushes. I was shocked. I had barely dipped it into the jar when it was already re-cleaning what I thought had been thoroughly clean. I love the smell and how it leaves my brushes feeling. The spray was awesome when I cleaned out my fluffy brushes. I don't think I'll ever not use Parian Spirit for my brushes. Such a great product.

Stephanie G.

Feb 18, 2013

Best Ever!!

This is by far the best brush cleanser I have ever used. So much so that I felt the need to write a review the day after I used it for the first time. The jar works amazingly for liquid/cream foundaion brushes. It also doesn't leave them soaking wet, like washing under a faucet. I was able to use next morning. The spray work great for big fluffy brushes or barely dirty e/s brushes. Smells awesome. Tip: wipe excess liquid off into jar before drying, I think I wasted some product that could have been reused. (There is an article on here with directions as well). Since its so easy to use, I thin kI will be able to clean my brushes more often, since let's face it I did not clean as much as I needed too before. Best of all it doesn't break the bank.

I don't know how I ever lived without Parian Spirit!

This is the most amazing brush cleaner. I don't know how I ever lived without it! The first thing I love about it is that it's made from natural ingredients-- orange is the core cleaning agent. So even though it's really effective, it's gentle and doesn't make a mess of the environment. It's amazing how quickly and thoroughly it cleans brushes and it has a great orange smell. It not only works on makeup, but also works on oil paint (even if it's dried into a brush!) and I've heard it even removes Sharpie! The System is awesome because you get the jar (my favorite) plus the spritzer and the refill. I can't live without my Parian Spirit!!!

Everyone has already said it

I just can't believe how well this system works. Before this system I cleaned my brushes weekly with a spray cleaner and deep cleaned monthly using a regular brush cleaner. I would have to clean & rinse several times over just to get a tolerable clean. It wan't fun to do and it was laborious and time consuming. But the Parian Spirit Brush Cleaning System is so darn easy to use, it's almost fun! At least as fun as any cleaning can be. I used the jar to clean a big blush brush with ease as well as a teenie tiny detail brush and everything in between. Before I knew it, lickity split I had cleaned over 20 brushes in less than 10 minutes. How awesome is that?

Best Addition to My Beauty Arsenal

I never would clean my brushes as often as I should, because it was always difficult and time-consuming. When I got my email saying that I had $10 off the Beautylish Store, this was the item that intrigued me the most. I just used it for the first time and I'm blown away. I used the adorable little jar, filled it with Parian Spirit up to the top of the grate included inside the jar and swirled away. I had so much fun cleaning my brushes that I went back to my makeup room to get MORE brushes to clean! So much old product came out and it was so easy! I can't wait til I can clean my brushes again!

So fresh and clean!

Heard so many great things about this product so I ordered this pack for myself to see. It really is amazing. I get all the nasty gunk off my brushes so quick, and something in the formula makes your brushes dry fast and glossy. People that don't like the citrus smells, this isn't for you because it is pretty strong. Easy to use and so fresh. Worth it!!!